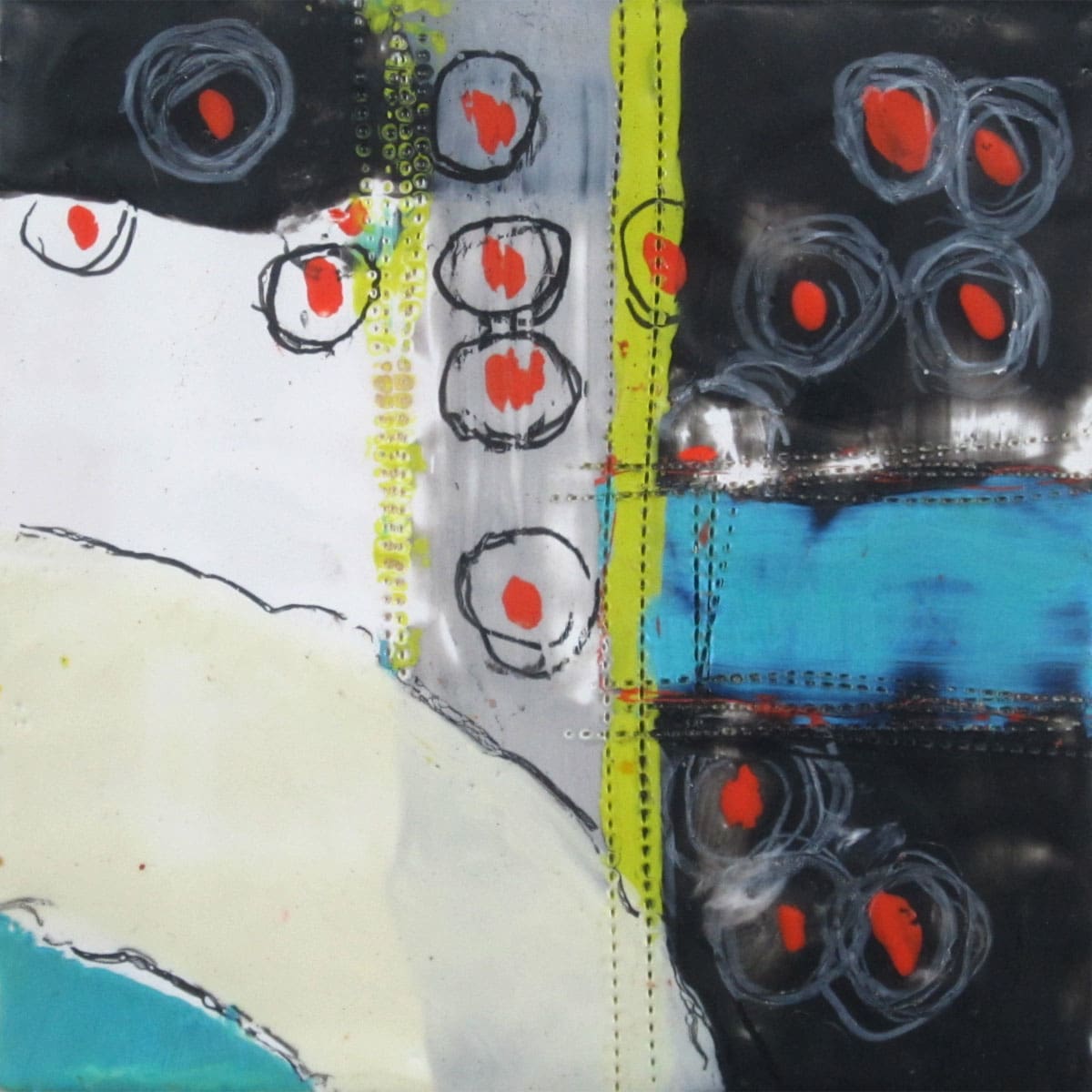 Exhibit: Lint in My Pocket
January 26 @ 8:00 am

-

February 24 @ 5:00 pm

|

Free
Emily Williams-Wheeler: Lint in My Pocket
January 26 – February 24, 2018

The Arts Center Gallery is open
Weekdays: 9:00 am – 5:00 pm
Saturdays: 10:00 am – 2:00 pm
Admission is always free.
Fargo painter Emily Williams-Wheeler will heat up the gallery in January and February.  Her work is HOT on a variety of levels.  First, it's encaustic, which is pigmented beeswax and resin that is applied hot to create the images.  Second, the colors Emily uses are hot—the hues of summer, bright orange, red, green and blue.  And thirdly, her work has been showing and selling around the region finding its way into many collections.  This isn't surprising, the work is happy and lively but also edgy, abstract and thought provoking.  Because the medium is costly, the work is small, just the kind of art a collector can justify since there is always a little space that can still be filled.  It is the kind of art you can look at for hours—its meditative.
Interestingly, the artist draws inspiration from the bits of random color and textures that make up the lint from a dryer's trap, hence the title of the exhibition Lint in My Pocket.
"At first glance, it [the lint] appears grey, but if you look closely, one will find that it is more complicated than that." ~ Emily Williams-Wheeler
One can imagine what the lint fibers would look like under magnification and in some ways Emily's imagery shares kinship with the shapes and textures one might see under the microscope.
She is an artist inspired by color, continuously working with layering colors, blending, mixing, and glazing to achieve the right combination for a successful painting.  In her artist statement, Emily sums up her work, "I find there is an intimacy in the pull of broad paint strokes and the delicate, thoughtful line-work.  Playfulness and mystery develop through the use of color, lines, and drips. Light translucent veils and solid chroma expose atmospheric profundity and emotion in my work. Acrylics are paired with graphite.  Encaustics are sculptural. I sketch. I paint. I carve. I scrape. I build. I reveal."
Lunch with the Artist
Wednesday, January 31, 2018 from 12:00 – 1:00 pm
(Lunch is $5.00, please RSVP to 701-251-2496)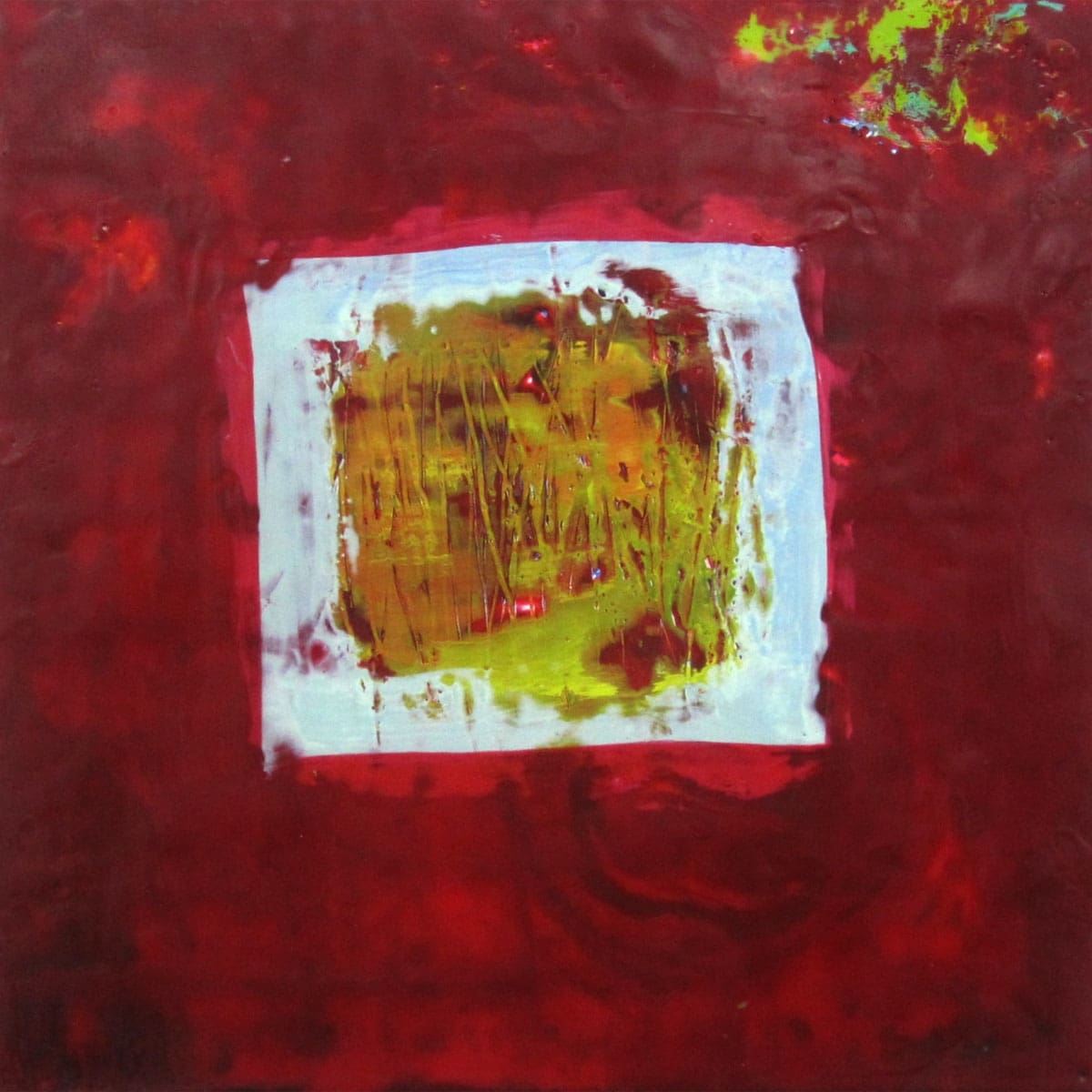 Emily is a self-taught artist who received her BA in interior design from Iowa State University, Ames.  Her work has been exhibited around the country and can be found in medical facilities, corporate offices, schools, retail establishments, and residences.  She also leads workshops and has been offering art enrichment and creative thinking classes for children and adults in her studio for more than 10 years. Emily's studio is in Moorhead, Minnnesota while her home is in Fargo, North Dakota. Visit her web site at www.emilywilliamswheeler.com.
This exhibition is sponsored by the North Dakota Art Gallery Association with support from the North Dakota Council on the Arts, which received funding from the State Legislature and the National Endowment for the Arts.
Above: Red Jewel, Emily Willimas-Wheeler, encaustic
Featured image: Repeat Red Dot, Emily Williams-Wheeler, encaustic