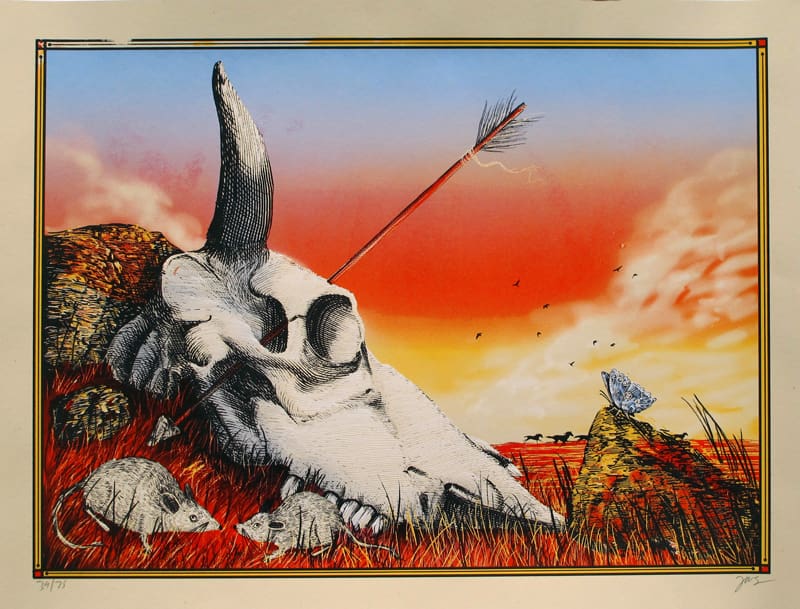 Exhibit: Ten Years of NotStock
April 1 @ 9:00 am

-

May 6 @ 5:00 pm

|

Free
TEN YEARS OF NOTSTOCK
April 1 – May 6, 2017
The Arts Center Gallery is open
Weekdays: 9:00 am – 5:00 pm
Saturdays: 10:00 am – 2:00 pm
Admission is always free.
NOTSTOCK is an annual live, hands-in, hands-on arts event held at Minot State University every fall since 2007. NOTSTOCK is a portmanteau derived from the words Woodstock, Flatstock, and Minot's mantra, "Why not, Minot?" This signature arts event has fostered education, opportunity, engagement, and exposure to the arts. NOTSTOCK has showcased poster art, ceramics, poetry, writing, film, theatre, foreign language, broadcasting, dance, and music.
This exhibit features poster art made by the NOTSTOCK printmaking artists. Guests have ranged from newcomers to those who are nationally recognized and honored for their work. Artists have come to Minot State University to work, collaborate, and share their knowledge, talents, and experiences with MSU students, K – 12 and postsecondary students and teachers, community members, and other guests who attend and participate. The event has evolved from a one-day event with one artist in 2007 to a multi day event with multiple artists and art forms.
Handmade poster art has a long tradition, particularly in advertising for music industry concerts. "Historic" posters, like those from the 60s, are highly collectible and have attracted new audiences to this medium. The NOTSTOCK artists captured the nostalgic flavor and style of these earlier poster designs and visitors to this exhibit will enjoy how these artists' creative designs address a variety of subjects.
Pictured: Zeb Love, screen print screen print, 24" x 18", 2014
This exhibit is supported in part by a grant to the North Dakota Art Gallery Association from the North Dakota Council on the Arts, which receives funding from the state legislature and the National Endowment for the Arts.