Next week (Thursday, April 7) brings a new exhibition to The Arts Center. Titled, Nuances, the exhibit features the artwork of Michelle Lindblom who is best known for her monotype prints. Long time faculty member at Bismarck State College, now retired, the artist began experimenting with her discarded prints and "found bits" to create new works.
Using collage and additional printmaking techniques like Chine-collé Lindblom has repurposed her work in a process of discovery that is both conscious and subconscious. She describes the experience not unlike a child playing and naturally interacting with his/her environment.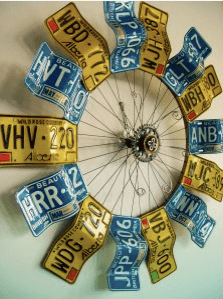 Repurposing is a trend that is gaining momentum among artists, crafters and DIYers (Is this a word? The urban dictionary says yes.). It is a sensible trend as the world grows we cannot continue to fill our landfills with refuse. For creative people, one man's junk can be the inspiration for a masterwork or on a more basic level and affordable way to create something needed or appreciated.
New businesses are emerging that connect people with used materials. For instance, "The Repurpose Project is a non-profit community based effort to divert useful resources from the landfill, redirect these items to the public for art and education, to inspire creativity, and help us all rethink what we throw away."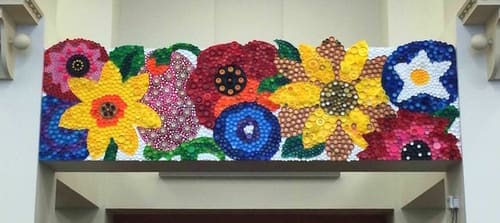 Friday, April 22 is Earth Day. The repurposing project I'm working on is wall mural made of saved bottle caps, it will be a work in progress but I have hundreds of caps to get started.  Do you have a repurposed project or artwork you would like to share? We'd love to see it, post it on FaceBook.
The Culture Builds Community blog is submitted (almost) weekly by The Arts Center Gallery Manager Sally Jeppson. Jeppson is also the Arts Center's Art for Life Coordinator. She would love to hear your comments or email sjeppson@jamestownarts.com.
Source: Jamestown Arts Area Voices