The Arts Center Celebrates Arbor Day with Hansen Art Park Tree Planting
September 13 – 3:00 – 5:00 pm
National Arbor Day is always celebrated on the last Friday in April, but many states observe Arbor Day on different dates throughout the year based on best tree planting times in their area. Fall is a great time to plant a tree in North Dakota so The Arts Center is commemorating the Arbor Day 
symbolically with the planting of several trees in the Hansen Arts Park. These trees will be part of the Park's permanent landscaping and a joy to watch grow for generations. To celebrate the planting of these trees we need your help. To make it fun for the entire family there will be nature inspired art activities, music by Two Rivers Performing Arts School and a perennial swap. The Arts Center is collaborating with the 
Sheri Steckler, the Jamestown 
City Forester who wanted to involve the entire community in the annual observance that celebrates the role of trees in our lives—and what better place than Jamestown's newest park.
Here is what we will be planting: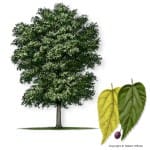 Hackberry
– Large shade tree, vase shape like an elm, disease resistant, fast growing to begin and slower with age. Green foliage, yellow in the fall. Gray corky bark.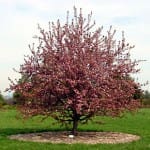 Red Splendor Crabapple
– Ornamental, about 15-18' tall. Interest every season of the year. Spring has burgundy leaves changing to dark green in summer and yellow in fall. Spring also covers the tree in rich pink blooms, followed by berries that turn brilliant red that stay all winter long for a great winter effect in the snow. Bird devour them in spring before the tree buds out.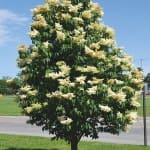 Ivory Silk Tree Lilac
– Beautiful medium sized tree with dark and emerald green leaves. Blooms later than other lilacs in ivory panicles on the stems ends. Yellow fall color.
Ohio Buckeye
– Medium sized tree that keeps a rounded shape until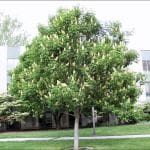 maturity….then oval. Palmate leaves that have 5-7 leaflets radiating out from the center like a palm of a hand. White panicles of flowers in the late spring followed by green buckeyes in the summer that are gathered by squirrels in the fall. Fall leaf color is yellow to orange.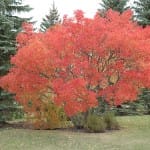 Amur Maple 'Hot Wings
' – Medium sized tree with gray bark and multi-stemmed which gives it a nice character in winter. Small leaves with pink to red seed capsules that are very showy during summer. Fall color is orange to red.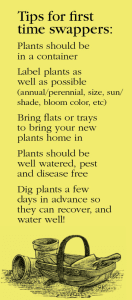 Perennial Swap – Bring one, get one. Bring two, get two. Fall is also a wonderful time to divide those overgrown perennials. Daylily, Hosta, Iris, Astilbe, Asiatic Lily, Oriental Lily, Lily-of-the-Valley, Ble eding Heart, Siberian Iris, Japanese Iris, Veronica, and Peony to name a few.  Bring quality, non-invasive species and please plan on swapping not just "depositing"—to make this work there should be no plants left at the end of the evening. Please identify your plants with their names and brief growing information so they will thrive in their new home. The Arts Center has two master gardeners on staff that can help you with questions.

Source: Arts Center Area Voices