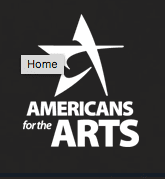 What's in store for the future of Arts funding now that we have a new administration in Washington? Right now we don't really know. However to get some insight I looked to the Americans For the Arts website and the comments of Robert L. Lynch is president and CEO of Americans for the Arts.
You can read his blog (Hope, Unity, and Resilience at the End of This Presidential Election) in its entirety but here are a few excerpts.
"President-Elect Trump, in answering questions co-developed by Americans for the Arts during the course of the campaign, deferred to Congress on supporting increased federal funding of the National Endowment for the Arts and other federal funding for culture in general. He also deferred to state and local school districts on maintaining or increasing support for arts education funding. While he does express appreciation for arts education and the arts in his own life, specific policy positions are unknown or undeveloped.

We do know that the President-Elect is very interested in growing the U.S. economy and improving international trade deals. Arts and cultural industries contribute 4.23 percent, or $704.2 billion, of the nation's GDP. The value added by arts and culture to the U.S. GDP is greater than that of several other sectors, including the construction industry, transportation and warehousing, mining and extraction, utilities, and agriculture. In contrast to U.S. goods and services as a whole, arts and cultural commodities are yielding a trade surplus—of $24 billion. The arts and cultural sector supports 4.7 million jobs, with more than 2.2 million people in the U.S. whose primary occupation is as an artist.

President-Elect Trump has said, "…supporting and advocating for appreciation of the arts is important to an informed and aware society. As President, I would take on that role."

As President-Elect Trump's administration takes shape, we will remain engaged to ensure that he and his transition team hear from arts leaders, community leaders, and activists and keep the arts central to the many pressing needs of the country. We will unite and strengthen our efforts to show that the arts represent the best of humanity, and urge President-Elect Trump's administration to advance pro-arts policies that will impact our society, communities, and generations to come.
If the Arts are important to you, I think the important thing at this time is to use your influence to make sure that your opinion matters to the decision makers. Contact your legislators, be proactive and give voice to the Arts. Need help with this? Contact Arts North Dakota (AND) where you can find addresses, emails and details about arts legislation.

Source: Arts Center Area Voices