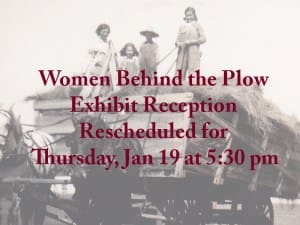 I feel like a bit of a hypocrite, in last week's blog I encouraged everyone to "get-over" winter, brave the elements and get to the reception last Thursday, only to panic and cancel/postpone the event on Thursday morning. I made the decision and I apologize to anyone who didn't get the word and "braved" the elements to arrive disappointed.
As many of you know, I live out of town and as soon as I looked outside and heard the announcements of "no travel advised" I wasn't going to take any chances. I did not want our special guests (the exhibit organizers coming from Bismarck and Napoleon) or the wonderful group of chefs/volunteers from the Germans from Russia Heritage Society nor anyone to be out in -22 degree weather with a -40 windchill trying to travel, negotiate ice and take risks.
Clearly some of you are tough and hardy! I greatly appreciate my coworker Angela Martini for staying in case someone showed up and indeed a good number of you did! I can hardly believe it, more people than is typical arrived for a canceled reception. The event's wonderful press coverage, thanks to the Jamestown Sun news article and various radio spots and blogs, proved successful at publicizing the reception but conversely my methods of getting the word out about its cancellation didn't reach everyone.
In the event of a "No Travel Advised Weather Announcement"
This got me thinking about solutions. It is unlikely (wishful thinking!) that this situation will occur again, but just in case, this my suggestion. If there is "official" notice of a weather advisory indicating "no travel advised" please call The Arts Center at 701-251-2496 to find out if an event is going to occur as scheduled. You can also check The Arts Center's Facebook page or website to see if there is a cancellation. Again my apologies and I hope you can join us this Thursday to enjoy the rescheduled reception complete with its refreshments and guests.
Source: Arts Center Area Voices