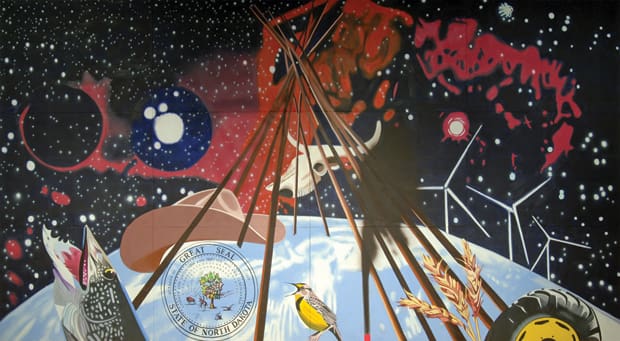 Last week while hanging the NotStock exhibition it crossed my mind that a couple of the prints reminded me of the work of James Rosenquist. Unbeknownst to me, the Pop Art Icon passed away on March 31. On the weekend, a former coworker from the Plains Art Museum in Fargo gave me the news. Rosenquist's art was in the Museum's collection and as a young curator and student of Art History I was in awe of being able to see and handle the work. Of course the Plains went on to commission the artist to create a permanent painting for their atrium "wall".
You see Rosenquist was born right here in Grand Forks, North Dakota, and he studied art at the University of Minnesota, so its important that his work be represented in our regional art collections.
Borrowing from the Plains Art Museum's Blog, here are a few facts:
He's from North Dakota. Rosenquist was born in Grand Forks in 1933, moving around the region frequently in his youth and spending a fair amount of time at his grandfather's farm near Mekinock, N.D. Rosenquist has noted that the landscape he was a part of became an inspiration for his perspective on the world – the wide open prairie would often be home to large stretches of disjointed imagery. After settling in Minneapolis, he graduated high school there and attended the University of Minnesota.
He began his career painting billboards. Rosenquist worked for General Outdoor Advertising in Minneapolis following his graduation from college. In the early 1950s, billboards were all painted by hand, and he became well-trained in the process. Following his move to New York City in 1955, Rosenquist enrolled in the Art Students League and within a few years began professionally painting billboards once again. This experience proved to be a critical component of his work. He learned how to scale small images into large ones and to work the materials necessary for creating large murals.
He is considered a founder of the Pop Art movement. While in New York, Rosenquist began to paint large murals that incorporated the effects he had learned painting billboards and the techniques of commercial advertising. His paintings would juxtapose seemingly unrelated fragments into works that defy easy explanation but do pull in the viewer's curiosity – chosen for their form and color, many of his subjects are all instantly recognizable.
Read more about the artist here:
https://www.theguardian.com/artanddesign/2017/apr/01/james-rosenquist-pop-artist-f-111-dies-83
https://www.nytimes.com/2017/04/01/arts/james-rosenquist-dead-pop-art.html?emc=edit_na_20170401&nl=breaking-news&nlid=70059035&ref=cta
Caption: North Dakota Mural, 2010, Collection of the Plains Art Museum, Fargo, ND