(Click title to read full post)
Installation of the Hansen Arts Park bench mosaics began on May 30th. The crew included all staff, two babies, two kids, two dogs, mosaic artist and our guide Molly McLain. McLain, an expert mosaicist, has been an Arts Center resident artist and has taught numerous mosaic classes while in Jamestown.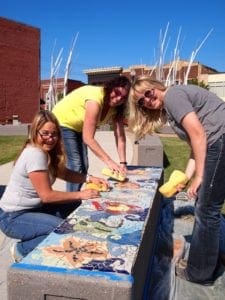 Eleven mosaics are in progress, some are completed and ready to install. The first to go out is the mosaic created by 2017 Arts After School students (grades 3, 4, 5). The theme of this bench is sea creatures where each student created a fish and Miranda Letherman, Arts Center Education Coordinator filled in the swirling "sea" around them.
It was a momentous occasion to see color finally arriving in the Park, softening the gray, industrial feel of the benches. These mosaics are no small feat for artists to create. Adorning all three sides, the mosaics occupy over 30 square feet in each bench–they are massive. Now that the installation process has begun we are questioning our sanity, wondering why we chose such large benches but my, oh my, they will be impressive when complete.
Artists have the option to install their own bench but some artists will opt out which means we need helpers. As you can see from the photographs many hands are useful, it makes the process quicker, and definitely more fun! If you would like to help and also learn the process please give us a call (701-251-2496) and when we are ready to do the next one we'll give you a call.