(Click title to read full post)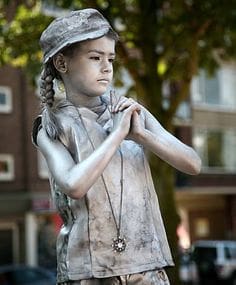 August 26, 2017 • 10:00 am – 11:30 am 
In association with the Downtown ArtSpark Festival, Jamestown, ND
We're looking for participants of all ages to join the Living Sculpture competition, part of the grand opening celebration of the Hansen Arts Park.
WHAT IS A 'LIVING STATUE'
A living statue is a person who poses like a statue or mannequin, with realistic statue-like makeup. It's an artistic discipline requires mastery of suspended motion. Brief moments of motion are allowed to confuse or astonish the audience. Living Statues have been a form of entertainment for at least a hundred years. Originally a form of circus sideshow, the showman PT Barnum was known to have used them as part of his repertoire of performance curiosities in the 1840s.
WATCH THIS VIDEO
CASH PRIZES will be awarded for the Most Creative, Most Humorous and Best of Show.
WHO can participate? Anyone. A great family project to get together and transform one member into a sculpture – how fun is that?
HOW TO ENTER? Call The Arts Center to get registered 701-251-2496.