(Click Title To Read Post)
If you've driven by The Hansen Arts Park you have probably noticed that things are moving forward, the signature sculpture, the Prairie Grass Ballet is complete and the sculptor Owen William Fritts is hard at work on the Boulder Pavilion. Today the audio equipment arrived and installation of the speakers is happening at this very moment. We are all busy working to celebrate the park with the Downtown ArtSpark event occurring on August 25 and 26.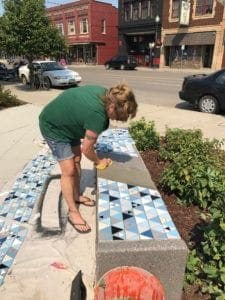 You may also have noticed that some of the bench mosaics have been installed. So far, four are complete with six artists just finishing up. We hope to have ten complete at the ArtSpark event. This has been an enlightening process, with the large mosaics taking longer than anticipated coupled with the fact that there are few mosaic artists in our region. Arts Center staff have participated in the installation process and it's been an exciting milestone to see each one finished.
Every mosaic is strikingly different, we have tropical fish created by the Arts After School students with Miranda Letherman Arts Center education coordinator, a seasonal montage by Mariea Zabka, a North Dakota montage by Adrienne Bear and Winter Geese by Jennifer Haley. In addition to the subject matter, the artist's technique for cutting and breaking the tiles also makes each finished panel uniquely different.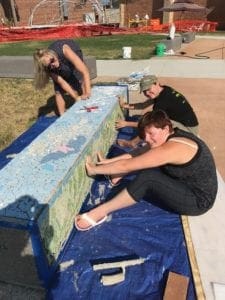 In the next few weeks look for a flurry of work on the mosaics. Please feel free to visit the park anytime and visit with the artists if you see them, but especially make time on August 25 and 26 to enjoy the first party of many that will occur in North Dakota newest outdoor arts venue–a gem in the heart of downtown Jamestown.