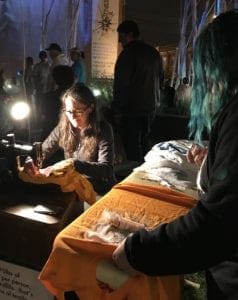 (click title to read full post)
As summer comes to an end it seems there is always the inherent need to organize and put things away, tidy up the clutter and begin preparing for winter. In my world, this manifested itself in cleaning out the closet and drawers. It brought to mind the recent installation, Beyond the Seams presented during the Downtown ArtSpark Festival.
Artists, Rachel Breen and Nickey Robare's, work calls attention to the garment industry and how there is a relationship between clothing and climate change.
The garment industry is the world's second largest contributor to climate change.
The artists wanted people to think about, "How did your t-shirt get made? Who sewed your jeans? How many miles did the raw cotton travel from the field to the factory to the mall?"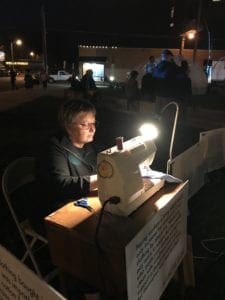 To illustrate the issue, the artists created a pop-up garment factory in the Hansen Arts Park where visitors to ArtSpark could watch garment workers (local volunteers; Deb Heim, Laurel Haroldson, Denyse Johnson, Marilyn Smyth, Jennifer Kross and others) sew re-purposed t-shirts. After visiting the factory, the audience could enter the boutique and create a personal commitment to help change the garment industry. Upon leaving the "factory", participants could select a shirt from the boutique and "pay" with their commitment to help change the garment industry.
Here are some of the "commitments" that came from our community:
Thrift shopping is life • Buy less & be more minimalistic • Keep buying second hand • Repurpose, embellish & remake • Working toward labor rights, wear it out, Fair Trade! • Donate used clothes & buy more used clothes • I will especially seek out local or domestic clothing producers and mend clothes I already own to make them last longer. I will also change my perspective on what is acceptable in terms of fashion. • Take care of my clothes so I don't have to buy any more • Recycle more / buy less • Work to encourage youth sports teams to re-use/re-cycle shirts • Swap clothes • Pick up trash • Donate used • Buy less clothes, pass down hand-me-downs • Repurpose, recreate clothes • Wear it out! • Re-purpose • Mend! • Buy used! • Buy Used clothes • Don't wash so often • Pass down my clothes • Turn old clothes into my art studio rags • Go to Recycling center and take some–they allow it! • Pass on hand me downs and wear them • Recycle and repurpose • Make costume instead of buying • Pass my clothes along • Repurpose blue jeans into quilts, reuse zippers and seams into bags • Reuse shirts for more • Repurpose clothes and dry on clothes line • I pledge to buy more used before new and seek fair trade items • Buy clothes used instead of getting new ones • Embellish • Donate more unused clothing to thrift stores • Buy used • Buy used, buy less • Only buy used clothes • Wear it out • Organize swap meet with friends • Dry on line, no new clothes • Refurbish • Take the first step in recycling • Repurpose old t-shirts into quilts • Repurpose • Grow Food and make fiber from my Alpacas • Show my arts students how they can recycle clothes • I pledge to ride a bike to school more, rather than drive
As I went through my drawers and closet, I considered the broader issues of the process: Do I really need all this stuff? • Who do I know that might like this? • Someone could use this more than I • How could I repurpose this to make something new or useful rather than just buy something else? So, you see, these artists made me think and consider the broader issues of my choices and that is an example of how art and artists can be a powerful force in social dialogue. Not everyone may have understood this art installation, but, if the artists were able to move even one person, to awareness, I believe their art was a success.