(click on title to read post)
I recently attended the 2017 North Dakota Art Gallery Association (NDAGA) Annual Meeting in Minot, ND. This year the meeting was held in association with MSU's NotStock event.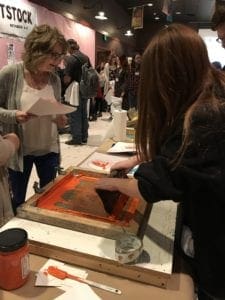 For many years I've heard exciting reports of the NotStock event and haven't had the opportunity to attend until now. The event is truly an arts extravaganza.  Unbeknownst to me, the college uses the event to attract future students. What better way than employing the energy and creativity of artists! From 9:00 am to 8:00 pm (for 4 days) participants and visitors could experience hands-on exploration of screen printing, ceramics, poetry, film making, theater and more. As part of our NDAGA meeting agenda we attended lectures by printmakers Ryan Duggan and Elizabeth Kovach and then watched and participated in screen printing activities with these artists and MSU arts students. We also collectively attended the slam-poetry performance by Oompa. This artist's unconventional and challenging work had the audience engaged in a performance rare in our region. I think this kind of activity is very important as it stretches the boundaries of art and broadens awareness to many social issues not present in rural ND but very much alive in metropolitan America.  Using art and artists are terrific ways to broach these sensitive topics (gender identity, race issues, women's rights, poverty, etc.) and educate our constituents–galleries and museums should be recognized as important venues for safe dialogue.
I particularly wanted to see the mechanics of the NotStock event. I was interested in how many artists are involved, what works, what doesn't, how is the community involved, where the funding come from and the overall success of the undertaking. I gleaned information on how an event like NotStock could be accomplished on a smaller scale in other communities like here at The Arts Center. The PotStock (ceramic hands-on activity) could be readily adapted to Jamestown with partnerships between The Arts Center, Jamestown University, Jamestown School District and the Downtown Business Association.
While I was out-and-about I stopped by the Lewis and Clark Interpretive Center in Washburn, ND to see the Northern Plains National Heritage Area art suite which includes works by Walter Piehl, Linda Whitney, Butch Thunderhawk, Vern Erickson and Monte Yellow Bird. The pieces were commissioned by the Lewis & Clark Fort Mandan Foundation, working in collaboration with the Northern Plains Heritage Foundation. If you have a chance, its worth the stop in Washburn to see the exhibits, most are historical in nature but there is also a "ton" of fine art!
I also stopped in Bismarck to see the Bismarck Art and Gallery Association's Fall Art Show. This exhibit is much like the Arts Center's JFAA Annual and includes a totally different group of artists. Making these stops gives me the opportunity to see new artists' work which may at some point come to Jamestown.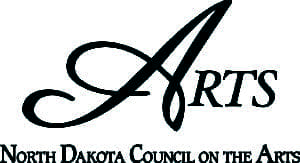 My thanks to The North Dakota Council on the Arts for supporting my travel and conference expenses with a professional development grant.