(Click on title to read)     I was reminded recently that promoting and mentoring artists is an important part of our mission. The art presented in the gallery brings visitors to our facility and adds dimension to programs like musical performances, community theatre, movies and earned income opportunities like receptions and parties. But we are also in the business of promoting artists, sharing their work and giving them exposure and hopefully sales. Art sales not only help the artist but they also help The Arts Center. The commission charged on sales is a minimal 30% which is far less than commercial galleries but it helps support the exhibitions program.
We have a variety of opportunities for artists to exhibit their work, there is the main gallery, the lobby gallery and our partnership with Jamestown Regional Medical Center (where quarterly we facilitate the installation of artwork). Every year (in the Fall) there is the JFAA Art Show which is a group exhibit open to all artists at all levels. Artists are highlighted in our newsletter, website and social media pages. Sharing the artist's background with photographs and stories does much to further the understanding and interest in their work. As Larry Kopp, The Arts Center executive director mentioned lately regarding giving–"people give to people"–and I'd certainly say people are more likely to buy art from artists who share their stories. The Arts Center can facilitate those connections. When possible, we try to have the artist come to a reception, give a gallery talk and perhaps even teach a class–every artist is different, the extroverts often get all the kudos while the introverts tend to get sidelined, this doesn't mean the latter's art is any less valid or worthy of praise and exposure–it just means we need to do a good job of introducing these artists and providing avenues for their stories to be told.
Over the upcoming months look for more in-depth exposure for our exhibiting and teaching artists–once you "meet" them you'll not want to miss learning from them in a class and experiencing the depth of their creativity in our exhibitions.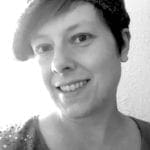 Resident Artist Linda Roesch
Exhibiting: November 1, 2017 – January 31, 2018 at the Jamestown Regional Medical Center – Rotating Artist Gallery (corridor between hospital and clinic)
Middle Ground is an exhibit featuring acrylic paintings of Midwestern landscapes that were completed within the past 3 years.  Many of the pieces in this show were painted during my teaching residencies in Jamestown in the spring and fall of 2017, and the paintings showcase some of the interesting places in and around this city.
Growing up on the Midwestern plains, I've developed an appreciation for the simple beauty found in our simple landscapes.  I am drawn to tall grain elevators (our prairie skyscrapers), colorful train cars, rolling hills of pasture grass and grain fields, and the beautiful architecture found downtown districts of our small towns.  I wanted to capture some of these beautiful places before they disappear.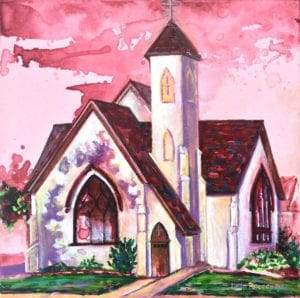 The paintings in this show will be featured in a book of Midwestern landscape paintings that is scheduled to be released in 2018.
Linda's Background: Linda Roesch is an artist living and working in Roscoe, South Dakota.  She studied painting and media design at Northern State University in Aberdeen, SD, receiving a Bachelor's of Fine Arts degree in 2005.  Since that time, Roesch has enjoyed working as a freelance artist, traveling the country to embark on sketching adventures or volunteer positions, and experiences from these travels are often referenced in her studio work. Roesch is fond of expressive strokes and is known for her use of bold colors in watercolor and acrylic.  In 2013, she began experimenting with 'spattercolor' techniques over heavy washes, creating intense skies or farm fields that give the illusion of movement; time is always passing on.
In 2014, Linda began selling her work at local art fairs and festivals throughout the midwest where her fun farm animal paintings are a favorite of children and adults alike.  She also shares her talents as a Teaching Artist and enjoys participating in art residencies and plein air events across the United States.  You can see examples of Linda's work and learn more about her adventures by visiting her website at sketchingspot.com.
Linda's Teaching Philosophy:  Whether we consider ourselves 'artists' or 'can't draw a stick figure,' we all use art every day to help us interpret our world. Understanding how the elements of design interact to create aesthetically appealing compositions can increase the amount of pleasure we feel doing even the most mundane of activities. By learning to incorporate the basic principals of design in all areas of our lives, we perform at higher levels in all that we do. 
Jamestown Residency: 
 Many artists are not equip to teach students whether they be children or adults. Over the years, the Center has struggled to secure teaching artists in our region. To help with this dilemma, The Arts Center recently partnered with the North Dakota Council on the Arts to create a mentorship program. The program paired a seasoned resident artist with a novice resident artist. With this program, Linda was able to build from the lessons that she and local artist Bonnie Tressler developed during their mentorship program and alter them for use during other residencies.  Linda completed her first teaching residency at Gussner Elementary last spring (2017). Since then, she has been teaching art at Washington, Louis L'Amour, and St. John's.   The skills Linda acquired while working at The Arts Center have given her additional tools to support her career as a working artist.
If you are an artist or you know an artist who would like to exhibit please contact Sally Jeppson, Gallery Manager at sjeppson@jamestownarts.com.