(Click on the title to read)
We are gearing up to begin our new season of Art for Life. Letters of agreement with the North Dakota Council on the Arts (NDCA) have arrived and plans are being formulated for lots of engaging programs for our elder artists.  This program was  initiated in 2009 and continues to grow today.
Just to refresh everyone, the program pairs an elder care center with an arts center to bring artists and intensive arts activities to elder residents and their families. Our local partner is Ave Maria Village and Heritage Centre with whom we have done countless projects.  Some of the most notable have been the Tree of Life project and the Mobile Painting Device project, the latter which resulted in a 15 foot monumental painting that toured the state.
The Art for Life projects are more than just simple crafts, by design they are intended to reach deeper, engage meaningfully and unlock memories and give healthy benefits.
I've been working "behind the scenes" to complete two activity plans that will be done this spring in care centers across the state, including Jamestown.  They are part of a series that is based on a traditional art from India called Warli.  This art is ancient, and is likely to have originated as a form of cave painting, which then evolved to adorn the interiors of the Warli's mud huts.  The art is simple and stylized–all about geometry and pattern.  Today's contemporary artists mimic the hut painting by using white paint on red or brown paper.  Interestingly, fabric designers have been attracted to the stylized imagery and the resulting clothing has found its way on to the Paris runways. And there are even Warli font styles.
For our purposes, the activity plans are based on an exhibition called Narrative Geometry:  The Art of Warli by Vaishali Mohite that is being developed by the NDCA.  This exhibit will likely come to The Arts Center's gallery in the future. Below is a photograph of a Warli painting by Vaishali Mohite © 2017 North Dakota Council on the Arts (NDCA).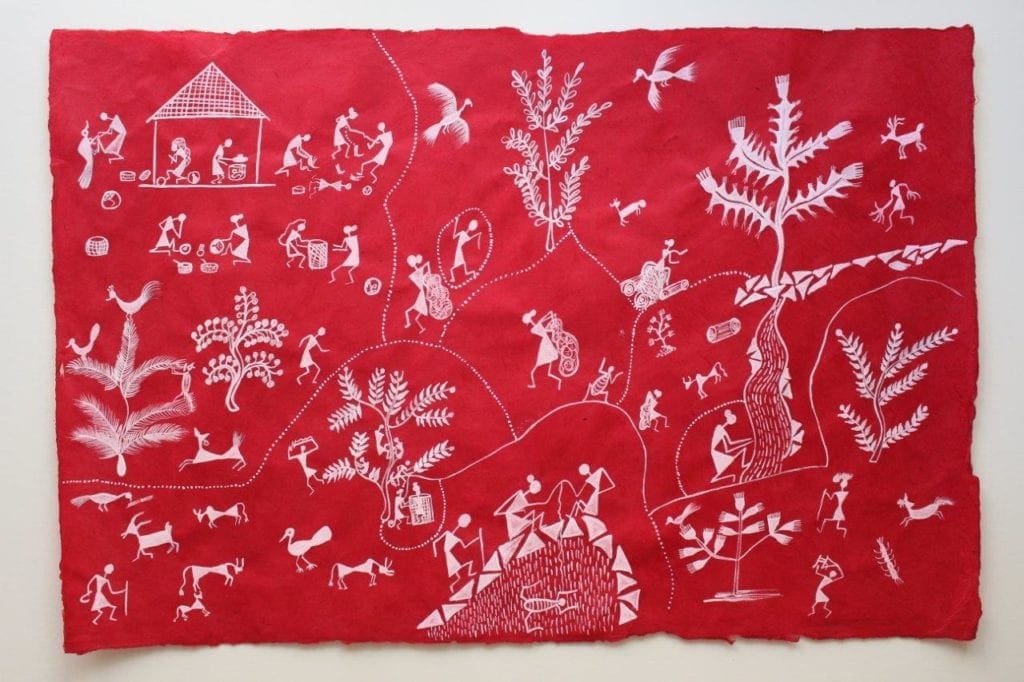 Warli art is a great art for elders to learn – with simple shapes they are able to depict all kinds of animals, people, environments and activities.  It takes the fear of trying to realistically represent something out of the process making painting fun for everyone. The activity plans associated with the exhibit include animal themed projects, TimeSlips stories inspired by Warli paintings, and much more. I'm looking forward to bringing this project to our elder community.  A sample of a completed plan can be found here.  This plan is part of the North Dakota Council on the Arts (NDCA) Art for Life Toolkit that includes dozens of other wonderful projects.