(click on the title to read)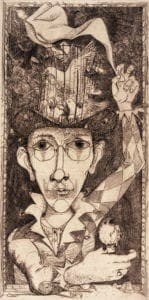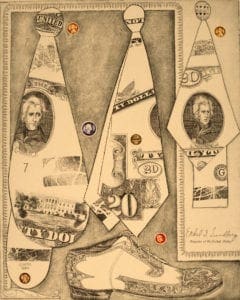 When you stop in to see the current exhibit I encourage you to spend some extra moments looking closely at each artwork. The exhibit includes 34 handmade prints by David Driesbach, a superb artist, who at 94, is still working. With the exception of one piece, every artwork in the exhibit is an intaglio print.
Intaglio is the family of printing and printmaking techniques in which the image is incised into a surface and the incised line or sunken area holds the ink. It is the direct opposite of a relief print. The design is cut, scratched, or etched into the printing surface or plate, which can be copper, zinc, aluminum, magnesium, plastics, or even coated paper.
I am captivated by the intaglio techniques that Driesbach uses, particularly the engraving and etching. The level of detail is amazing, the tiny, fine lines and the textures that can be achieved are remarkable.
The exhibit includes descriptions of printmaking processes and there is a handout with printmaking terms.  Today, many people are fooled by the term "print" thinking they getting something special, 1/1000, when really they are getting a reproduction having been produced with photography and a commercial press–these Driesbach prints are the real deal, hand printed by artist in small editions.
Interestingly, sometimes handmade prints can be affordable if you are willing to do some searching. If you have a favorite artist or genre check on eBay you might just find a treasure.  Remember gifts of art make wonderful presents and your purchase helps to support artists.