(click on title to read)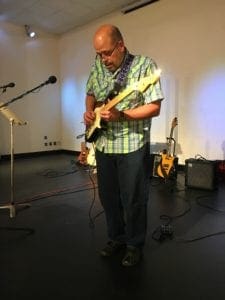 I want you to come to Open Mic tomorrow, January 25 at 7:00 pm and here is why…
Where can you go with friends and enjoy entertainment for FREE?
Many of you know I live out in the country and it takes a lot to make me stay in Jamestown after work hours or to make a trip into town on my days off.  Open Mic has been going on for a couple of years and I'm embarrassed to say that it wasn't until last year that I experienced my first Open Mic evening. Ever since, I've tried to attend when my schedule allows.
Its such a unique mixture of music, stories, and comedy provided by both professional and amateur artists. Steve Kuykendall, guitar player, performer and teacher facilitates the evening which welcomes people of all levels (and ages) to perform in a safe environment. Kuykendall sets up the stage and also provides much of the equipment, P.A. system, bass amp, and guitar amp. Steve has worked tirelessly to encourage performers and to build this program and I want people to come to support Steve's efforts and the brave performers who come to share their talents.
For the beginning musicians, its a way to be in front of an audience for the first time, for professionals maybe its an opportunity to try out a new song, work out the kinks and gauge audience reaction. Writers can share stories and poems. If you like to sing, my guess is that Kuykendall could play the song to accompany your voice.
For the audience the experience is broad and varied. I've enjoyed stellar guitar playing, percussion, piano, folk and rock'n'roll singing, readings and comedy. I love to see the joy on novice performers faces when the make it through their performance, maybe they make a few mistakes but who cares–they did it! It almost makes me want to do something, its encouraging to see people conquer their fear and really put themselves out there.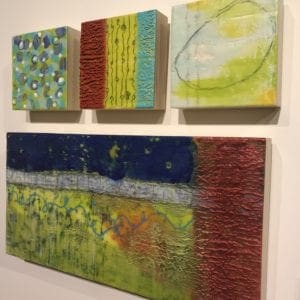 People come and go, they visit and they can enjoy the beautiful stage surrounded by whatever exhibit happens to be on display. Tomorrow evening's audience and performers will get the first viewing of the Emily Williams Wheeler exhibit, whose encaustic paintings provide a kaleidoscope of vivid color.
Performers get 10 minutes on stage and all you need to do is show up at 7:00 pm and get on the list.  The evening usually runs at least two hours. If you have questions please feel free to call The Arts Center, 701-251-2496.
---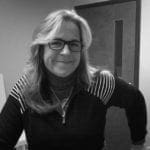 The Culture Builds Community blog is submitted (almost) weekly by Sally Jeppson. Sally has worked in the arts for over 30 years. She has an MA in Art History and is responsible for The Arts Center's exhibits & Art for Life program that provides arts activities to seniors. In her time off, Sally keeps busy exercising, gardening, cooking and riding horses while running a business that works with museums, galleries and organizations to create exhibit materials, artwork and displays.