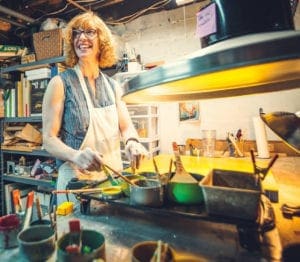 (click on title to read) As promised, once a month there will be the opportunity to meet one of our exhibiting artists. Our first Art Lunch is on January 31 with Emily Williams-Wheeler. This first lunch is special, Emily will not only share her art but will also demonstrate the encaustic medium.
Everyone is invited. You can bring your lunch or you can enjoy a $5.00 homemade lunch provided by The Arts Center. The only catch – you need to RSVP by January 30, just call us to sign-up 701-251-2496.
Meet the Artist Lunch • 

January 31 •  12:00 – 1:30 • RSVP by January 30
Emily's work is colorful and abstract, just the kind of art we need to warm us up in deep winter. Here are a few examples. The exhibition contains forty-seven paintings the majority which are mixed media encaustic paintings. The artist uses graphite, water-soluble crayon, watercolor, oil stick and collaged materials to add dimension, texture and depth to her work.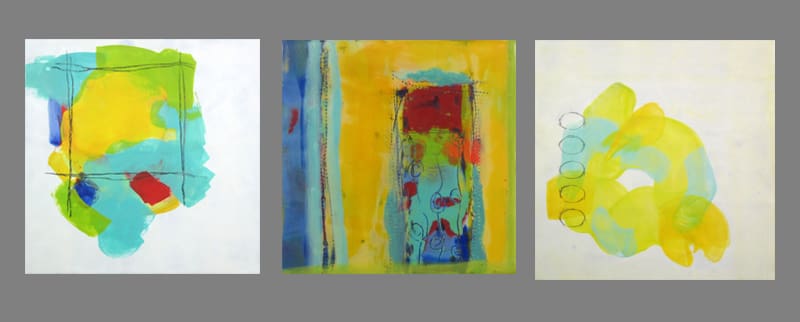 It will be interesting to hear Emily speak about her work and her career. She is an accomplished regional artist who has completed a variety of unique projects.
Emily has received two grants from The Arts Partnership (in Fargo-Moorhead) allowing her to study encaustic painting with well-respected artist, Lisa Pressman. The result of these studies is the body of work contained in the Lint in My Pocket exhibition. As part of her visit, Emily will give a brief demonstration of encaustic art.
What is Encaustic…? Encaustic paints are made of beeswax, Damar resin, and pigment. Wax has several inherent qualities that allow it to withstand the test of time: it is a natural adhesive; it is moisture resistant, mildew and fungus resistant, and unappetizing to insects.  Wax paint also does not contain solvents or oils so they will not darken or yellow with age–leaving the painting as fresh as the day it was painted. Encaustic painting can be polished to a glossy sheen or very textural and sculptural. The wax begins to melt at 175° F. As with any fine art, these should be kept out of direct sun and not hung over a heating element.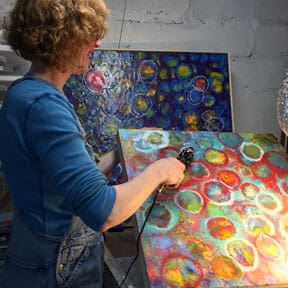 Emily is multitalented, she has painted several public murals including the Recess West play area at Fargo's West Acres Mall and the play areas at the Ronald McDonald houses. She was also commissioned to paint more than 30 works of art for the North American Headquarters of Horsch Anderson Manufacturing. Emily even designed the set for the Santa display at West Acres Mall.
Currently, she is working with the Moorhead Public Schools to incorporate her art into the new Dorothy Dodds Elementary School. In January 2017, she created the West Acres Artist-in-Residence program. She will be the first of many artists to share creative processes with the public for 9 months in the West Acres Mall. She is represented by the Revland Gallery and the Underbrush Gallery in Fargo as well as at the Rourke Museum Gallery in Moorhead, MN, the Capital Gallery in Bismarck, ND and the Kaddatz Gallery in Fergus Falls, MN. Emily's studio is in Moorhead, Minnnesota while her home is in Fargo, North Dakota. Visit her web site at www.emilywilliamswheeler.com.
---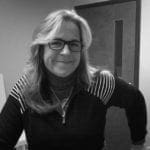 The Culture Builds Community blog is submitted (almost) weekly by Sally Jeppson. Sally has worked in the arts for over 30 years. She has an MA in Art History and is responsible for The Arts Center's exhibits & Art for Life program that provides arts activities to seniors. In her time off, Sally keeps busy exercising, gardening, cooking and riding horses while running a business that works with museums, galleries and organizations to create exhibit materials, artwork and displays.