Resident artist Nicole Gagner recently brought her many talents back to Jamestown. Working with elders at Ave Maria Village and the Heritage Centre, Nicole guided the elders through two activity plans she developed for the North Dakota Council on the Arts' Art for Life Tool Kit.  Nicole has a passion for canning vegetables and has fond memories of her grandmother's kitchen and particularly her pickles. Understanding that many elders have similar memories of their summer kitchens and "putting up" the garden's bounty for winter, she created two activities which both use the iconic Mason (or Kerr) jar of pickles as inspiration.
Conversation about "canning memories" was initiated with a tasting of pickled vegetables. Opinions were many, some preferred sweet, some sour, some hot pickles, clearly everyone had different favorites. Soon the the smell of "pickle juice" filled the room and the residents were asked to make a collage of their favorite canned fruit or vegetable. Using torn paper and the outline of a jar everyone had a fun time "filling" up their container while continuing their conversations.
When everyone's collage was complete, their "jar" was cut from the background and used as the model for a water color painting of the same subject. I think the finished projects were terrific, but you be the judge and enjoy this little video.
---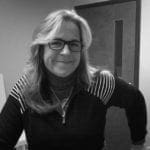 The Culture Builds Community blog is submitted (almost) weekly by Sally Jeppson. Sally has worked in the arts for over 30 years. She has an MA in Art History and is responsible for The Arts Center's exhibits & Art for Life program that provides arts activities to seniors. In her time off, Sally keeps busy exercising, gardening, cooking and riding horses while running a business that works with museums, galleries and organizations to create exhibit materials, artwork and displays.