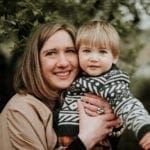 Kate Troyer was another artist who really became part of The Arts Center family. In 2002 – 03 she taught in the schools, arts after school and had a solo exhibition.  Everyone wanted to adopt Kate and keep her in North Dakota.  During her residency, she wanted a puppy. I remember taking her out to see the new litter, and not long after, Herbie the corgi became The Arts Center's unofficial mascot.
Her interest in fabric and design was already taking shape during her Jamestown residency. Looking back at the notes from her exhibition, Struggle for Identity, it appears that similar themes reoccur in her design work today—notions of beauty, change, perceptions, relationships, vulnerability and inner conflict.
Kate recently shared some thoughts on her time in North Dakota and what she is doing today.

"The Art Center residency was an incredibly important experience for me as a young artist. It was at The Art Center that I started experimenting with fabrics as a means of artistic and creative expression. Making connections with Taylor, Bonnie and Sally was amazing and they are such supportive women in the arts that I felt right at home and am so grateful that I was able to have friendships with them during my stay.

After The Art Center I went on to graduate school in Textile Art and Design at the University of Wisconsin, Madison and received an MFA in Textile Art and Design in 2009. Since then I moved to Portland Oregon and mentored under womenswear independent fashion designer Garnish Apparel for 3 years. During that time my work transitioned from a fine art/sculptural focus to an interest in textiles for Home interiors and Fashion.

I have since collaborated with Home Decor companies and other Fashion designers on custom hand printed and digitally printed fabrics and in 2014 started my own womenswear brand with my designer partner Shelby Morgan called

Veil & Valor

. What began as a collaboration is now a full fledged womenswear brand of thoughtfully produced, edgy yet timeless clothing that feature in-house, hand rendered textile designs and artisanal details, all embracing the slow fashion movement. As entrepreneurs & mothers ourselves, we take pride in working with women-run businesses in our local community. Ethical practices and supporting women and mothers in business is core to our mission."
Kate is now married with two boys a 3 year old and 8 week old!  She still designs patterns for a home interior company as well as running Veil & Valor full time.
---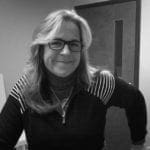 The Culture Builds Community blog is submitted (almost) weekly by Sally Jeppson. Sally has worked in the arts for over 30 years. She has an MA in Art History and is responsible for The Arts Center's exhibits & Art for Life program that provides arts activities to seniors. In her time off, Sally keeps busy exercising, gardening, cooking and riding horses while running a business that works with museums, galleries and organizations to create exhibit materials, artwork and displays.