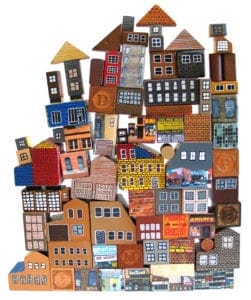 The Arts Center has been host to many artists over the years. Some residencies have been short but some artists have spent up to a year or more working in the Jamestown community.  Many of these artists, fresh out of undergraduate programs, gained valuable experience for their careers.
Laura Wennstrom was our resident artist in 2009.  She worked in the schools, taught arts after school and summer programs.  She was part of The Arts Center at an exciting time.  She was one of the last artists to exhibit in the "old" gallery space and she taught classes at our temporary home in the "daktel building".  Despite the difficult classroom situation and working on a broken foot (having tripped over gallery installation debris on the way to get her much-needed morning coffee), Laura was always happy and upbeat. Her students loved her and she became part of The Arts Center family.  So what is she up to now?  Here are some excerpts from her email and a link to
her website: laurawennstrom.com
.
I am doing well. I am working at Bethel University in St Paul, MN where I'm the Art and Design Department Office Coordinator and Adjunct Professor. It's a great program with a vibrant roster of faculty and students- I really enjoy working with other artists that are both extremely accomplished and just starting out. I always tell students about the Jamestown Art Center Residency program! 

After my Jamestown Residency in 2009, I worked at a public elementary school in Bloomington, MN teaching reading and special education and doing some after school and summer arts programming around the Twin Cities. In 2012, we moved to Illinois where I started (and finished!) a three-year, full time MFA program at the University of Illinois at Urbana-Champaign. That was a crazy, intense, hard, but a totally-worth-it program.  

I am still so thankful for my time in Jamestown at The Arts Center. The classroom experience was INCREDIBLE. I was able to say that I worked in every, single 3rd and 4th grade classroom in the city, see how different teachers ran and managed their classrooms, and I met a diverse set of students. PLUS I got to teach my own classes after school with a great set of resources, space, and support. AND I got a huge studio and free rent AND I got paid. Still probably the best gig I've ever had. Oh, and also a solo show. I don't have a teaching certificate, but I definitely consider the residency my "student teaching" experience.
Take a look at this wonderful video of Laura's work and her philosophy. It includes some fun images of her time in Jamestown.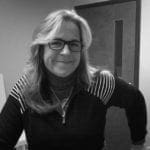 The Culture Builds Community blog is submitted (almost) weekly by Sally Jeppson. Sally has worked in the arts for over 30 years. She has an MA in Art History and is responsible for The Arts Center's exhibits & Art for Life program that provides arts activities to seniors. In her time off, Sally keeps busy exercising, gardening, cooking and riding horses while running a business that works with museums, galleries and organizations to create exhibit materials, artwork and displays.