(click on title to read) I'm pleased to announce that local artist Brad Bohl's artwork will be displayed in the Governor's office. When Kim Konikow, the new director of the North Dakota Council on the Arts, asked me for suggestions I immediately thought of Brad's work.  
A year ago Brad wouldn't have been on my radar, when he approached The Arts Center to exhibit his paintings I only knew of his welding and ironworks expertise and consequently wouldn't have known that he had art appropriate for Bismarck's capitol offices. His work will be displayed from April to June. He tells me he is working on a couple new paintings and plans to deliver the art at the end of March. This is very exciting and a terrific opportunity for Brad.  If you see him you should voice your congratulations.
In a previous blog, I mentioned that part of The Arts Center's mission is to help artists get exposure through exhibitions, teaching opportunities, mentoring and resources. Brad's journey to Bismarck is a perfect example of those efforts having an impact. If we can open doors for our local artists its even more meaningful. I think back on the young artists who have worked at The Arts Center, some having very little experience when they arrived have gone on to become university faculty and successful artists. I hope to highlight some of these artists in upcoming blogs.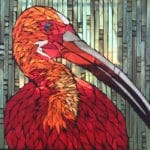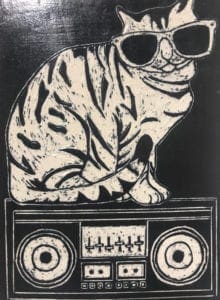 Next week we host another Artist Lunch. Join us on Friday, March 16 at noon. RSVP by March 15 if you want a $5 lunch. Resident artist, Laura Ruprecht will discuss her work and highlight what she will be teaching in her two upcoming classes. The current exhibit, Animals with Attitude includes examples of her art and the techniques addressed in these classes. Laura is excited to share her knowledge and I encourage you to take advantage of these classes while she is in Jamestown.
---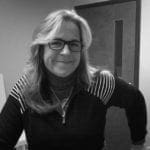 The Culture Builds Community blog is submitted (almost) weekly by Sally Jeppson. Sally has worked in the arts for over 30 years. She has an MA in Art History and is responsible for The Arts Center's exhibits & Art for Life program that provides arts activities to seniors. In her time off, Sally keeps busy exercising, gardening, cooking and riding horses while running a business that works with museums, galleries and organizations to create exhibit materials, artwork and displays.