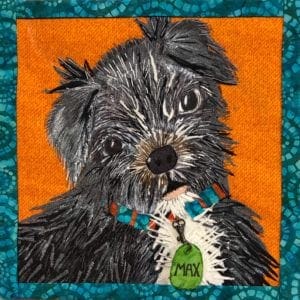 In the exhibition business sometimes things don't always go as planned. This exhibition began as a textile challenge last fall. Artists were given the winter months to complete their projects. For many, "life" got in the way and they couldn't finish artworks in time for this exhibition.  Occasionally, this happens, and as the saying goes, we learn to roll-with-the-punches.
So an exhibition that had size constraints and limited submissions per artist has evolved to include more work by fewer artists and a greater variety of sizes and shapes.  But, as you can see, there is still a wide variety textiles, fabric and woven fiber.  The exhibition's title, Shape Shifters originally referred to a prescribed size of the artwork, having at least one dimension of 12 inches (e.g. 12" square or 12" diameter).  This was a manageable size for artists and the size constraint provided a palette of objects that could be organized in grids and geometric configurations to create interesting installation opportunities.
In early March, realizing that the exhibition wasn't moving forward as expected, the size restrictions were dropped and we contacted other textile artists and private collectors to insure that the exhibition would continue as planned.  The exhibition title, Shape Shifters is still appropriate, where before it referred simply to size configurations, it now expresses a different perspective. The notion that through the magic hands of artists, simple everyday materials are transformed–or shape shifted–into new, unique pieces of art.
The resultant exhibition features a group of fiber and textile arts including three-dimensional and two-dimensional artwork like quilts, baskets, weavings and more.  There are 15 artists involved, Lydia Richez-Bowman (Bismarck), Linda Olson (Minot), Sue Balcom (Mandan) Myra Olson, Joleen Reiland Lorenz, Emma Mickelson, Bonnie Tressler & Doreen Strode (all of Jamestown), Vicky Jo Bogart, Debra Richman, Virginia Dambach, Lona Daley Getz, Julie Richardson (all of Fargo), Jill Bredahl (Spiritwood) and Pamela Gordon Davis (Grand Forks).
Several of the artists have multiple pieces and including our newest Arts Center staff member Myra Olson.  Myra's medium of choice is textile, not only does she create handmade artwork, but she raises the sheep, angora goats and alpacas that provide the raw materials for her pieces.
So you see, there is never a dull moment in the exhibition business. One must be flexible, accommodating and creative to find options when things don't go as planned. It helps to have the connections of many artists and collectors to draw upon and we appreciate their willingness to share and augment this exhibition. Particular thanks go to Vicky Jo Bogart and the Designing Quilters group of Fargo for adding some terrific work from their own textile challenges.
The exhibition runs from April 12 – May 19, 2018. The artists are invited to a Meet & Greet Lunch on Wednesday, May 9 at noon. This is an opportunity for the public to see the exhibition and visit with the artists. A homemade lunch will be provided for $5 or, if you prefer, bring your own. RSVP by May 7 by calling 701-251-2496.
Top Photo: Doreen Strode, Max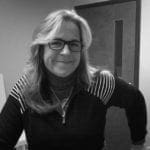 The Culture Builds Community blog is submitted (almost) weekly by Sally Jeppson. Sally has worked in the arts for over 30 years. She has an MA in Art History and is responsible for The Arts Center's exhibits & Art for Life program that provides arts activities to seniors. In her time off, Sally keeps busy exercising, gardening, cooking and riding horses while running a business that works with museums, galleries and organizations to create exhibit materials, artwork and displays.
SaveSaveSaveSaveSaveSaveSaveSave
SaveSave
SaveSave
SaveSave
SaveSave
SaveSave
SaveSave