Last week Minot State University commemorated the completion of the new Northwest Arts Center, the Walter Piehl Gallery, and the Native American Artifact Collection in the lower level of Gordon B. Olson Library.
Piehl, who recently retired from a 50-year career teaching art at MSU, is donating a major body of his work to the center's permanent collection. The grand opening exhibit, "Retrospective: Covering 1962 – 2018," is an overview of his work.
"As far as having a gallery with my name on it, I didn't push it, but if they wanted to do it and thought it would help in promoting the art center, I was happy to go along with that," Piehl said. "I am also happy to donate a major collection of my work as a permanent display in small parts and large parts here at the center. There is some pride involved with having my name on it, but it's more of my way of saying thank you to the university that has been good to me for, now, going on 48 years. They have encouraged my work and have been helpful in promoting my work outside of the class room."
Heavily influenced by his early experiences on the rodeo circuit, Piehl's works have earned the admiration of collectors across the United States and abroad. Piehl is a familiar face in Jamestown, having had several exhibitions in The Arts Center's gallery, speaking at our Annual Meetings, jurying the JFAA Annual Art Show and working with staff on numerous projects. Having grown up in nearby Marion we can say, "he's from around these parts" and we take possession of him wholeheartedly.
Piehl called me last summer asking if I'd be willing to work with the Minot State University to design his retrospective exhibition. This was a great honor, somewhat scary and a momentous task. Working in concert with the Northwest Arts Center's Gallery Director, Avis Veikley we have shared the work, she doing the "heavy-lifting", which is really a true statement when it comes to Walter's work, and me making tons of labels and writing interpretive panels.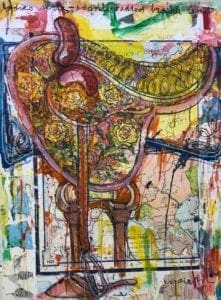 Since the exhibit spans Piehl's entire career there are pieces from 1960 – 1964 when he was just a student at Concordia College in Moorhead, Minnesota. There are several works that show the very beginnings of his most iconic series, the sweetheart of the rodeo. Looking at selections of Piehl's complete body of work in one place is humbling. There is so much energy, even in the pieces that one might call calm, like a ladies side saddle, padded brocade seat with its patterns and vibrant color, the saddle almost comes to life.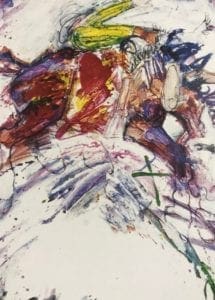 In 1989, recently hired as a curatorial assistant and fresh out of grad school, I recall going through the Plains Art Museum's permanent collection and seeing Piehl's painting breezy music:  sweetheart of the rodeo suite (see ptg. at left) I was stunned that this painting was created by a North Dakota artist. I was a lover of abstraction and a lover of horses so, I was an immediate fan. There was none of the nostalgia or realism found in most rodeo paintings but a snapshot, a slice of a moment in the battle between horse and rider, rendered in what might best be called abstract expressionism.
Piehl said he didn't have access to art museums when he was growing up in rural North Dakota and that he became a teacher not only to pursue his love of painting, but to teach and share his appreciation of art with others. Piehl continues to mentor and share whether in his capacity as a teacher, board member or citizen artist. When he juried the JFAA Annual exhibit here in Jamestown he gave the most prizes ever, multiple honorable mentions with additional categories. He found merit in each and every artwork and wanted to recognize the efforts of all the artists for participating. At the reception he described his thinking in great detail like a true mentor.
I feel fortunate to have been mentored by Piehl, not necessarily as a visual artist, but as an exhibition designer working with him over the years on a variety of projects, including the Cowboy Hall of Fame in Medora. I thank him for his support and I'm so happy that he has this beautiful gallery named in his honor.
If you are in Minot stop by the gallery, hours are 9 a.m. to 4 p.m., Monday through Friday. Parking and visitor entrance are on the south side of the library. Exhibits at the Northwest Arts Center are free and open to the public. The Piehl Retrospective is up until June 8, 2018.