"My time in Jamestown, building relationships with the young artists in the school and at The Art Center were some of the most exciting times I have had as a creative professional."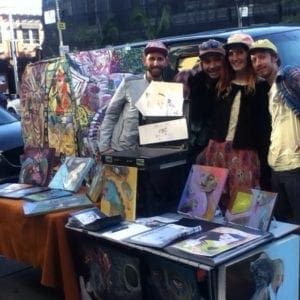 William Hessian: Jamestown Artist in Residence (2005- 2011). In addition to teaching art, William Hessian created annual miniature buffalo art hunts during his time in Jamestown, and continues to do a couple annual art hunts each year. Since his time in Jamestown he has rooted in Portland, Maine and founded the Hidden Ladder Collective, which is a group of artists that host weekly art nights, music shows and believe in the power of collaboration.  Learn more  the Hidden Ladder Collective in this TED x talk: https://www.youtube.com/watch?v=WUotyWs4etE
In addition, William Hessian founded Hidden Ladder Games and published a table top card game called, PBL ROBOTS.
"I remember teaching after school classes called, 'Create your Card Game' with the kids at The Arts Center. It was during those classes that I got to experiment with new ideas, and share some of my dreams, and ultimately led to me creating games myself."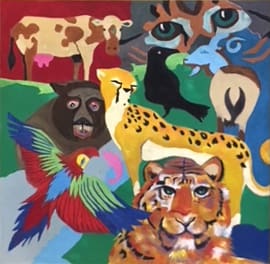 The art collective travels the country once a year on Art Tours where the artists create collaborative street murals, play music and teach people how to play their board games. William still teaches art classes during the summer at Rivertree Arts in Kennebunk, ME but spends most of his time as a social worker with Preble Street. As a social worker William spends many nights running Night Owl Art Group and painting large murals with the under-served communities (homeless); the image "muralsquare" (left) is one of the paintings William created with different under-served members of the community. William is also the Union of Maine Visual Artists: Portland Chapter President and helps run a gallery space right on Congress Street. Check out William's Website.
In Jamestown, William was the children's favorite artist for many years. His "fans" continued to connect with him long after he left the area.  Not only did he work with children but also adults and he was responsible for the large mural in the halls between Ave Maria Village and Heritage Centre where he worked with elders to depict their farms and favorite memories.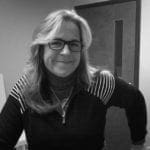 The Culture Builds Community blog is submitted (almost) weekly by Sally Jeppson. Sally has worked in the arts for over 30 years. She has an MA in Art History and is responsible for The Arts Center's exhibits & Art for Life program that provides arts activities to seniors. In her time off, Sally keeps busy exercising, gardening, cooking and riding horses while running a business that works with museums, galleries and organizations to create exhibit materials, artwork and displays.
SaveSave
SaveSave
SaveSave
SaveSave
SaveSave
SaveSave
SaveSave
SaveSave
SaveSave
SaveSaveSaveSave