We are always working behind the scenes to find new and exciting art for exhibitions. Last week I visited the North Dakota Museum of Art (NDMOA) in Grand Forks to discuss the possibility of showing the Bradford Hansen-Smith exhibition. There are plans to tour this exhibition through NDMOA Rural Arts Initiative and I wanted The Arts Center to be a potential venue.
The photos speak for themselves showing what extraordinary skill the artist-engineer has to create such an abundance of folded creations.
In Hansen-Smith's art, a simple circle is transformed over and over again into countless iterations of geometric shapes. Bradford Hansen-Smith began folding circles after taking a geometry class. After years of further study, he noted, "Since nobody was doing anything but drawing pictures of circles, I decided it was my job to fold circles."

"It is about observing and forming a dialogue with the circle. This is an exploration to find out the nature of the circle and what can be generated by simple folding and joining. It is about observation and paying attention to the symmetry of movement, allowing the forms and systems to develop, and they are always beautiful."

"The technique is simply touching points and creasing; then using tape, glue, and bobby pins to bring the folded work together. There is no cutting or measuring. Knowing math is not necessary to fold circles; math functions are just some of the information generated in the process. My work is not about what I can do with the circle as much as to play with and discover the nature of what it is and what it will generate. Art and math are only two areas of demonstration about the implicate order inherent in the circle."
The show will come to Jamestown in December 2018. The artist is open to doing workshops and this will be an exciting exhibition to explore where math and geometry intersect with art.
The touring exhibition will be a selection (a subset) of the one that is currently on display at NDMOA. It is well worth the trip to Grand Forks to take in the whole exhibition.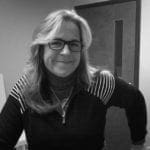 The Culture Builds Community blog is submitted (almost) weekly by Sally Jeppson. Sally has worked in the arts for over 30 years. She has an MA in Art History and is responsible for The Arts Center's exhibits & Art for Life program that provides arts activities to seniors. In her time off, Sally keeps busy exercising, gardening, cooking and riding horses while running a business that works with museums, galleries and organizations to create exhibit materials, artwork and displays.