The Mini-Art Hunt is an annual favorite in Jamestown. It brings art to the people, and people to the parks!  Ten unique mini-artworks by artist Nicole Gagner will be hiding throughout the Jamestown parks and Historic Sites. Can you find them?
Nicoles's miniature paintings are 1.5″ x 1.5″ acrylics on wood squares. Themed "Prairie Skys," Nicole created landscapes of various sky scapes from around the state. Like the one pictured below. Learn more about the artist…Nicole Gagner.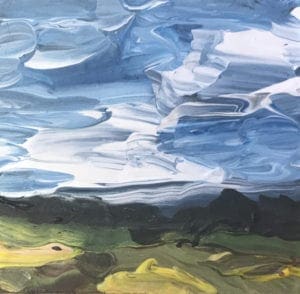 The hunt begins: Saturday, July 28th and ends when all 10 art works are found!  You can find clues at The Arts Center booth in McElroy park Saturday during the White Cloud festivities and on The Arts Center's Facebook page.
CLUES: Four Sets of Visual Clues (photos) to each artwork's hiding place will be made public on Saturday, July 28th at 10:00 am, 12:00 pm, 2:00 pm, and 3:00 pm. The first clues will be the most challenging with the final clues being the most revealing.
HUNTING: All artwork will be hidden in PLAIN SIGHT—You will not have to move, dig, or otherwise damage anything. Visual clues to the artwork hiding places will be posted on our Facebook page and available at The Arts Center's booth in McElroy park during White Cloud Days.
FOUND: Finders keepers! This original piece of miniature artwork is yours to keep. Be sure to REPORT YOUR FIND. No one wants to be hunting for a piece that has already been found. Post a photo of yourself and your found treasure to The Art Center's Facebook or Instagram page. Or contact the Arts Center office (701-251-2496 / info@jamestownarts.com) to report your find.
LIMIT: Please only one artwork per family (you are welcome to locate them all, but claim only one).
So, get out to the parks and good luck on the hunt!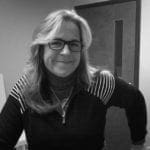 The Culture Builds Community blog is submitted (almost) weekly by Sally Jeppson. Sally has worked in the arts for over 30 years. She has an MA in Art History and is responsible for The Arts Center's exhibits & Art for Life program that provides arts activities to seniors. In her time off, Sally keeps busy exercising, gardening, cooking and riding horses while running a business that works with museums, galleries and organizations to create exhibit materials, artwork and displays.