During his short time as executive director, Larry Kopp left his mark on Jamestown.  Understanding the importance of community connections, Larry set to work immediately engaging community leaders and service organizations.  The Arts Center's long history of milestones and successful programming, gave Larry a brilliant story to share.  He has done this successfully, particularly with people positioned to support The Arts Center. More than ever, the general public, as well as regional funders, have an awareness of The Arts Center and recognize its value. This is largely due to Larry's ability to tell our story and his initiative to leave, as they say, "no stone unturned" when it comes to looking for support. This is a tireless effort that all who lead non-profits must tackle and Larry, with no connection to our community or region, has wholeheartedly embraced. We thank him for his effort.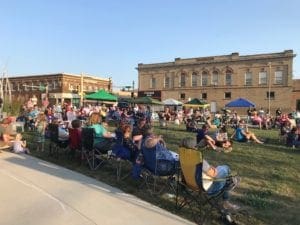 Every leader brings new perspective to an organization and Larry brought his musical expertise to The Arts Center.  In association with Jamestown Tourism, North Dakota Tourism, the Jamestown Chamber of Commerce and Jamestown Downtown Association, Larry was able to secure funding and volunteers to launch this summer's ambitious 12-week Downtown Arts Market. The cornerstone of the Market was its musical performances and Larry was able to organize a balanced schedule that included every genre to delight the audience. Introducing such a bold schedule was risky and we all wondered on that first day, if people would come and after that first day's success, would people continue to come. They did, the community loved the Market and we have Larry to thank for having the chutzpah to make it happen.
Even though Larry's time with The Arts Center has been short, he moved the organization forward, providing new programming perspectives, broader community awareness and a model for outdoor performances/events that will be the cornerstone for future activities in the Hansen Arts Park.
Larry will close out his time with The Arts Center at our Oktoberfest celebration on September 15.  Tickets are available now. Come join the fun send Larry off with the celebration. We wish Larry the best of luck with his future professional endeavors. Please follow this link to read the Jamestown Sun article on Larry's resignation.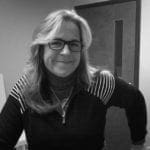 The Culture Builds Community blog is submitted (almost) weekly by Sally Jeppson. Sally has worked in the arts for over 30 years. She has an MA in Art History and is responsible for The Arts Center's exhibits & Art for Life program that provides arts activities to seniors. In her time off, Sally keeps busy exercising, gardening, cooking and riding horses while running a business that works with museums, galleries and organizations to create exhibit materials, artwork and displays.