The 54th Annual Jamestown Fine Arts Association Art Show broke all recent records this year.  Sixty-seven artists participated with 141 pieces on display.
The largest category was painting followed closely by photography. This year also saw an increase in ceramics, mosaics and encaustics.
The juror,  Jennifer Parker, artist and former director of the Nelson County Arts Council (organizer of the Pekin Art Show) selected nine category awards and a number of honorable mentions.  Parker took a personal approach to her choices making award selections based on artwork that moved her.
And the winners are: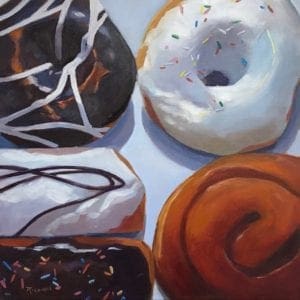 Best of Show 
Connie Riedman (Fargo, ND), Breakfast of Champions, 2017, oil (shown at right)
Painting 
Avis Veikley (Minot, ND), No Time, 2018, oil on canvas 
Honorable Mentions 
Ellen Jean Diederich (Fargo, ND), Routine Gatherings, 2016, watercolor
Barbara Nechiporenko (Bismarck, ND), The Home Place, 2017, oil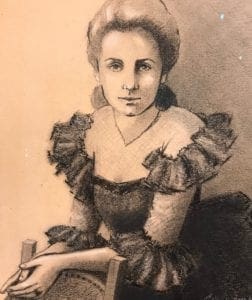 Drawing 
Cathrin Von Bank (Fargo, ND), Woman in Black Tulle, 2017, charcoal (shown at right)
Honorable Mention 
Cathrin Von Bank (Fargo, ND), After The Rain, 2018, soft pastel 
Photography 
Troy Gunderson (Jamestown, ND), Don't Shoot, 2017, photography 
Honorable Mention 
Birgit Pruess (Fargo, ND), Medora Kicking Horse, 2018, photography 
Mixed Media 
Terry Jelsing (Rugby, ND), All the Kids, 2018, mixed media 
Honorable Mention 
Madelyn Camrud (Grand Forks, ND), She Sleeps in Deep Water (The shape of it), 2018, acrylic collage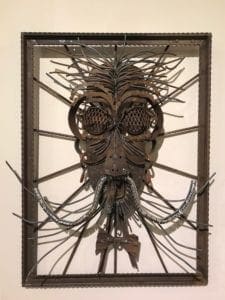 Sculpture 
B.L. Getz (Cooperstown, ND), Portrait of Uncle Bob, 2018, sculpture (shown at right)
Honorable Mention 
W. Kimble (Minot, ND), Once Upon a Girl, 2016, mixed media sculpture
Ceramic Processes / Glass Works 
Jon Offutt (Fargo), West Wind, 2018, blown glass 
Honorable Mention 
Linda Olson (Minot, ND), Spring Blossums, 2018, porcelain ceramic 
Professional Artist 
Sue Morrissey (Fargo, ND), What Would Dante Say?, 2018, assemblage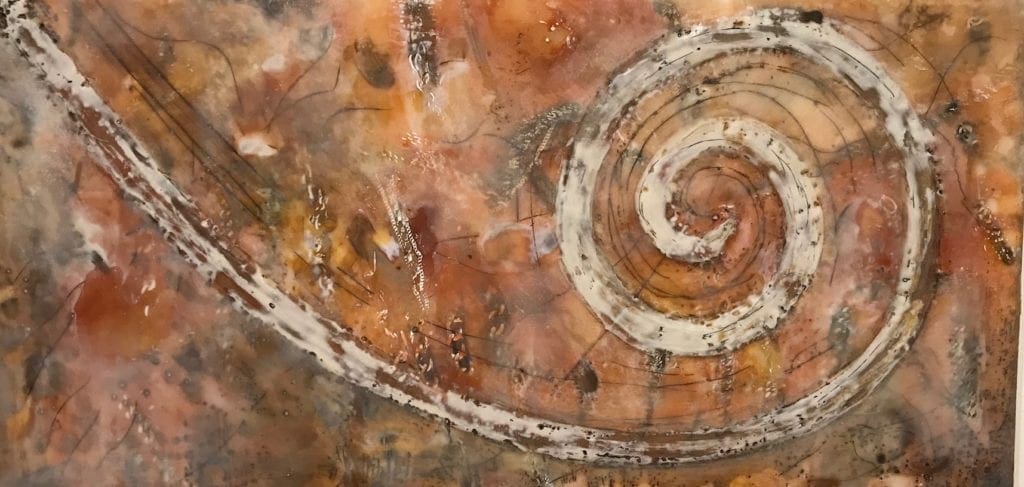 Encaustic 
Gretchen Bederman (Mandan, ND), Spiral, 2017, encaustic (above)
Mosaic 
Joleen Reiland-Lorenz (Jamestown, ND), Dobie Love, 2018, mosaic glass on glass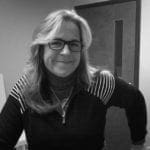 The Culture Builds Community blog is submitted (almost) weekly by Sally Jeppson. Sally has worked in the arts for over 30 years. She has an MA in Art History and is responsible for The Arts Center's exhibits & Art for Life program that provides arts activities to seniors. In her time off, Sally keeps busy exercising, gardening, cooking and riding horses while running a business that works with museums, galleries and organizations to create exhibit materials, artwork and displays.