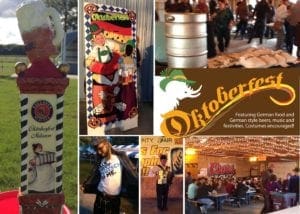 Enjoy OKTOBERFEST!
Saturday, September 15 from 5:30 – 9:00 pm in The Hansen Arts Park.
Oktoberfest is a Munich tradition since 1810, when it celebrated the betrothal of the Bavarian King Ludwig I to Princess Therese. Since that time, Oktoberfest has grown to a worldwide phenomenon, a celebration of all things German… in particular the especially potent Oktoberfest beer!
On September 15th, The Arts Center is proud to sponsor our own annual Oktoberfest celebration! This year, for the first time we are holding Oktoberfest downtown in our own Hansen Arts Park, the perfect venue for this popular fundraiser. This year's celebration includes:
Authentic German Oktoberfest beers on tap.
North Dakota Microbreweries offering tastings of their products.
Authentic German bratwurst and snacks as part of the admission price.
Live music from Matt Hodek and the Dakota Dutchmen, performing authentic "old time" music.
A genuine "Beer Tent" for a real Oktoberfest feel.
German games and raffles. 
It's as close as you can come to a trip to Bavaria without leaving ND… a real Oktoberfest celebration right here in downtown Jamestown!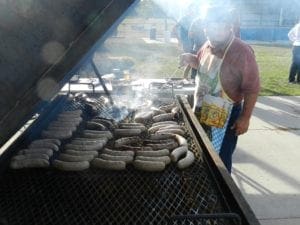 Enjoy great beer and food, live music and best of all, genuine German gemütlichkeit… all at The Arts Center's Oktoberfest! We hope to see on September 15th!
Tickets are $35 and are available from Cork & Barrel, The Arts Center, Arts Center Board members and at the gate.
As mentioned, the home base of all Oktoberfest celebrations takes place in Munich, Germany each year and spans 16 – 18 days running from late September to the first weekend in October. It is one of the most famous events in Germany and the world's largest fair, with more than 5 million people attending every year. The Oktoberfest is an important part of Bavarian culture. Other cities across the world also hold Oktoberfest celebrations, modeled after the Munich event.
All proceeds from this event will go to support programing at The Arts Center. Oktoberfest is sponsored by Jamestown Tourism, Cork & Barrel, Bergseth Brothers, Beverage Wholesalers, and Valley Sales.