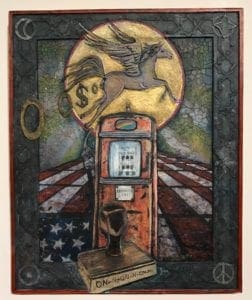 Join us next Wednesday, December 5 at noon to meet artist Robert Matz.
Art has power; it is a beautiful and creative way to communicate everything from personal passions to social commentary. With his broad skill, Robert Matz uses a variety of mediums to express newsworthy topics–global warming, oil extraction, political issues and more. The exhibition is titled, Figments–basically issues and items pulled from Matz's everyday explorations.  His subjects might come from a drive through the Badlands or a trip to the supermarket.
Ever alert, artists are always cataloging things, filing them away in their creative memory banks.  These things then become content to be manipulated and embellished to create a work of art.
I'm looking forward to Matz's presentation – every work has a story and we, as viewers, can't always interpret the meaning. There is much to be learned from these artworks and I encourage you to join us for lunch and delve more deeply into these Matz's artworks.
You can bring your own lunch or enjoy a $5 homemade meal.  Please RSVP by December 4 if you wish to have lunch.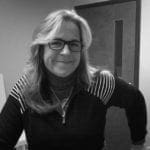 The Culture Builds Community blog is submitted (almost) weekly by Sally Jeppson. Sally has worked in the arts for over 30 years. She has an MA in Art History and is responsible for The Arts Center's exhibits & Art for Life program that provides arts activities to seniors. In her time off, Sally keeps busy exercising, gardening, cooking and riding horses while running a business that works with museums, galleries and organizations to create exhibit materials, artwork and displays.