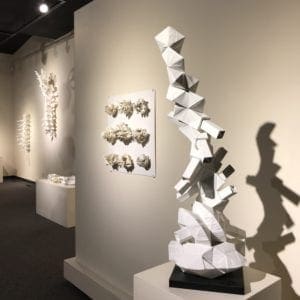 The art of Bradford Hansen-Smith has transformed The Arts Center's gallery into a wonderful, peaceful and contemplative space. When I made arrangements with the North Dakota Museum of Art to host this exhibition I wasn't considering the time of year. It turns out the artwork fits perfectly with the holiday and winter season. Many of the paper sculptures are reminiscent of snowflakes and ice crystals. Others call to mind sea creatures or mythical animals. And there are totems and wall hangings worthy of worship.
What is amazing is that all the artworks are created from folded paper plates, glue and few additions like plastic tubing and bobbie pins for embellishment. These geometric wonders are unadorned, all in white providing a sophisticated, elegant presentation when paired with the gallery's white walls. It's the perfect exhibition to visit if you would like to get away from the frenzy of shopping and crowds.  You can quietly marvel about how the artist had such patience to create these artworks–only a fraction displayed in Jamestown.
The exhibition comes to Jamestown through the North Dakota Museum of Arts' Rural Arts Initiative, an educational outreach program that works to encourage and empower rural school students and their teachers to actively participate in learning through the arts. Letters to all local and regional schools have invited students to visit the exhibition between now and January 30th. Our first group of students-Jamestown's Jr. High math students will come next week to see the marriage of math and art.
Bradford Hansen-Smith is a working artist. He is also a teacher. Bradford developed Wholemovement™ which is the process of learning geometry through folding paper circles.  This guide for teachers and home-schooling parents shows geometry can be derived from the circle, offering a fun way to introduce children (or adults) to a better understanding of geometry. Children enjoy folding, taping, and coloring the paper plates, while adults can appreciate the deeper discussion of mathematical principles. Of interest to origami and mathematical paperfolding enthusiasts, the paper circle offers a new world of possibilities to people of all ages.

Drawing and making things is how I have always explored and understood the world around me. I made a living as a sculptor for many years before needing to know more about spatial patterns of movement and how they worked. 

—Bradford Hansen-Smith
A video accompanies the exhibit for those who would like to hear more about Bradford's art process and the above mentioned Wholemovement™.
Above excerpt from NDMOA website.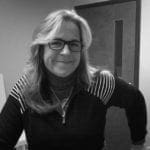 The Culture Builds Community blog is submitted (almost) weekly by Sally Jeppson. Sally has worked in the arts for over 30 years. She has an MA in Art History and is responsible for The Arts Center's exhibits & Art for Life program that provides arts activities to seniors. In her time off, Sally keeps busy exercising, gardening, cooking and riding horses while running a business that works with museums, galleries and organizations to create exhibit materials, artwork and displays.