Eighty pieces of art by thirty-nine artists makes a powerful statement for the 55th Annual JFAA Art Show. Summing it up, the most notable change this year is an increase in larger sculptural pieces.
There was also an increase in professional artists participating, by professional I mean artists who make their living exclusively with their art, some are art teachers or faculty, some retired, some are represented by commercial galleries. Many have been in the exhibition before but may have taken a break in recent years. It was nice to see them return.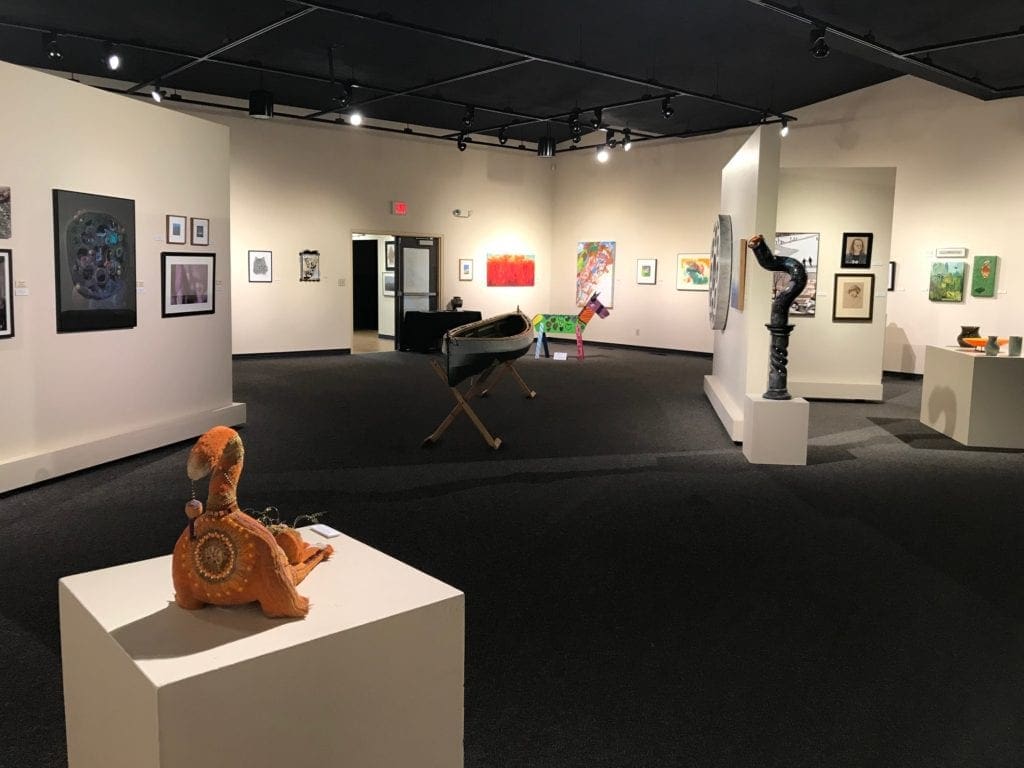 However, as always, I was proud of the non-professionals that submitted artwork. There are many who have participated in the exhibit for years and each year they come with something new and improved. Art takes practice and patience and the hard work of these artists is evident in their work. I don't want these artists to get discouraged about not winning awards.
Jurying is tricky, I've done it many times and it's always difficult to choose and it's hard to be objective–we all have our preferences. Paul Noot, this year's juror, mentioned that it was difficult, particularly in the sculpture category as he was not accustomed to so much wall-hung sculpture (vs. sculpture you see from all sides). He also noted that as a painter himself the Painting category was difficult. Of those he mentioned or chose for awards, he felt there was some commonalities, like the artists might have known each other or admired each other's work. I think he may have been referring to the "looser" more relaxed style that characterized these works.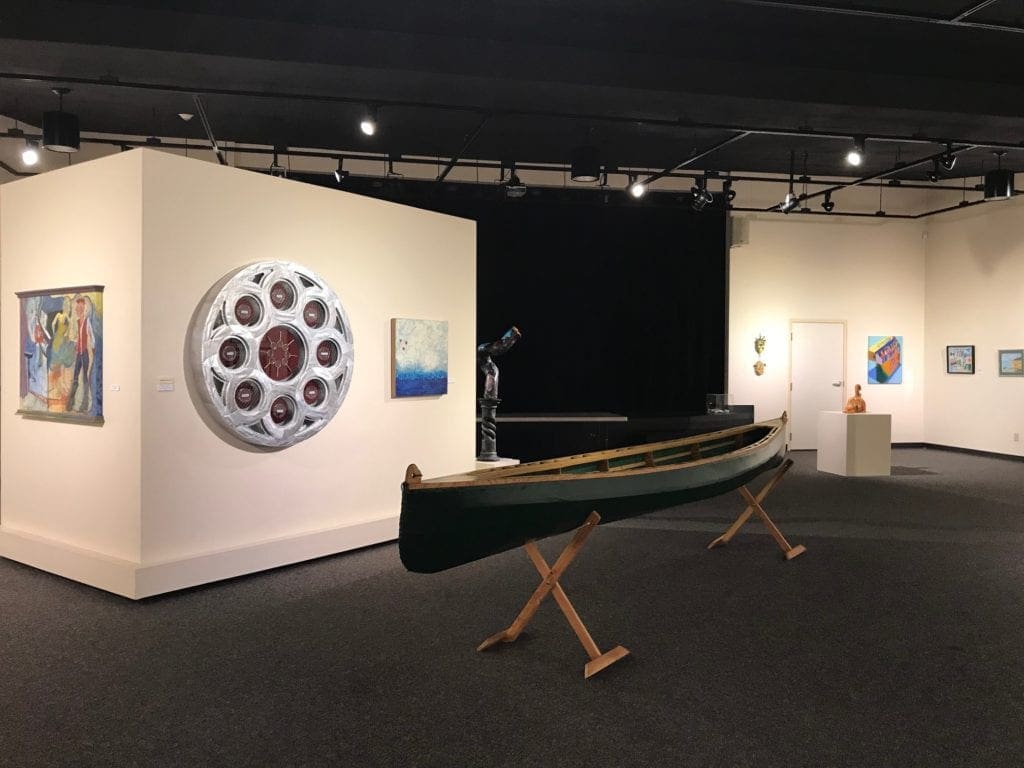 Personally, I was impressed by some of the "fine craft" that was submitted for the exhibition. There is never enough artwork in any of these categories to win an award (except Best of Show) and that is unfortunate. Bonnie Tressler's mosaic sculptural pieces are superb – creative and exquisitely done. Jaci Trefz's fused glass platter is also among my favorite pieces.
There were some notable omissions this year; no artists from Bismarck participated and this is the first year we've had no children's work submitted. Timing of this year's exhibition (a month earlier) and competing with other regional exhibitions may have had some impact on the number of submissions.
Please stop and vote for your favorite – People's Choice Award.
AWARDS
Best of Show – Linda Whitney (Valley City, ND) Niso Hummingbird Dancer 2019, mezzotint 
Painting – Brad Bohl (Buchanan, ND) Pronghorn, 2018, oil on canvas
Painting Honorable Mentions – Walter Piehl (Minot, ND) Jimtown Outlaw: Sweetheart of the Rodeo Suite, 2019, acrylic, Frank Clemens (Jamestown, ND) 5th Street, 2019, acrylic, Brad Hohnadel (Jamestown, ND) Eclipse, 2017, watermedia.
Printmaking – Linda Whitney (Valley City, ND) Niso Hummingbird Dancer, 2019, mezzotint.  Note: this piece is also the Best of Show.
Printmaking – Honorable Mentions – Sharon Linnehan (Valley City, ND) Fun and Games, 2017, monotype, Laura VonBank (Moorhead, MN) Fox in the Hen House, 2019, linocut, Akua ink, mixed media 
Drawing – Brian Paulsen (Grand Forks, ND) Pigeon Holes, 2019, drawing – ink
Drawing – Honorable Mention – Sharon Linnehan (Valley City, ND) Moon Flower, 2017, colored pencil drawing 
Photography – Scott Seiler (Fargo, ND) Wrapped for Elegance, 2019, photography
Photography – Honorable Mention – Mark Strand (Fargo, ND) Garden of Delights: Hieronymous Bosch and Marie Cosindas in Fargo, 2019, photograph
Mixed Media – Connie Riedman (Fargo, ND) The Road, 2019, mixed media
Mixed Media – Honorable Mention – Sue Morrissey (Fargo, ND) The Picture Framer, 2018, assemblage
Sculpture – Patrick Luber (Grand Forks, ND) Reason's Lament, 2018, sculpture
Sculpture – Honorable Mention – Bonnie Tressler (Brandon, MN) Oscar/Blue Gill, 2019, sculpture – beaded mosaic, Don Paul (Edgeley, ND) Wormhole, 2019, sculpture – mixed media, Bill Nybo (Jamestown, ND) Giraffe Mask, 2019, ceramic 
Ceramic Processes / Glass Works – Jon Offutt (Fargo) Head On, 2018, blown glass
Ceramic Processes / Glass Works – Honorable Mention – Linda Olson (Minot, ND) Feather, 2018, ceramic – porcelain
Professional Artist – Sharon Linnehan (Valley City, ND) Japonisme, 2017, monotype
---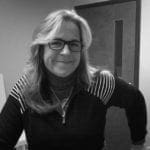 The Culture Builds Community blog is submitted (almost) weekly by Sally Jeppson. Sally has worked in the arts for over 30 years. She has an MA in Art History and is responsible for The Arts Center's exhibits & Art for Life program that provides arts activities to seniors. In her time off, Sally keeps busy exercising, gardening, cooking and riding horses while running a business that works with museums, galleries and organizations to create exhibit materials, artwork and displays.