This week we welcome our new Education Coordinator, Kathleen Roehm. Kathleen hails from Minot originally but has been in Jamestown since 2010. She is a graduate of University of Jamestown with a degree in Applied Music with a concentration in Vocal Performance – in other words Kathleen can sing and not only can she use her voice as an instrument but she can also play many different instruments from wind to string.
Her leadership skills (a minor in Character in Leadership) have led her to positions in University government, student affairs and directing resident assistants.
She shares her passion for music as a community member for the University of Jamestown Concert Choir, a member of the Wind Ensemble (clarinet) and a member of the Pit Orchestra for the fall musical. Kathleen teaches private lessons at Two Rivers Performing Arts School, sharing her expertise with new musicians.
She likes all types of music and right now is particularly interested in folk/indie genres and says Walk the Moon is a current favorite band.
In addition to working part-time at The Arts Center and teaching music lessons, Kathleen has also worked at i3G Media as a board engineer and still fills in as an on-air talent. Her skills will be great in helping with our Summer Downtown Arts Market. And did I mention she headed up the planning and executing of the UJ Annual Community Block Party?
Kathleen loves to read and worked for the James River Library System as the Assistant Children's Librarian and Assistant Programming Director. These programming and educational skills, working with children, will be helpful as Kathleen takes on the scheduling of Arts After School instructors and classes.
Kathleen likes to draw and has dabbled with graphic arts and digital arts growing up, at university and in her jobs. When asked, "digital art, what do you mean?" She creates original images on her iPad with an apple pencil.
Kathleen loves all kinds of animals and has two cats. She loves astronomy (she even has a constellation tattoo on her forearm, the "little fox" Vulpecula). Kathleen has traveled extensively, her musical endeavors taking her abroad several times. She is a "foodie" and will fit in just fine with our crazy staff that is always willing to try something new and Kathleen was excited to hear that organizing periodic culinary classes was something she could consider.
Without doubt, there is much more to Kathleen than what is mentioned here, so please stop by and meet her. She's hit the ground running and is eager to learn, organize and plan programming. If you have suggestions for classes, etc. she would welcome input.
---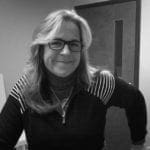 The Culture Builds Community blog is submitted (almost) weekly by Sally Jeppson. Sally has worked in the arts for over 30 years. She has an MA in Art History and is responsible for The Arts Center's exhibits & Art for Life program that provides arts activities to seniors. In her time off, Sally keeps busy exercising, gardening, cooking and riding horses while running a business that works with museums, galleries and organizations to create exhibit materials, artwork and displays.