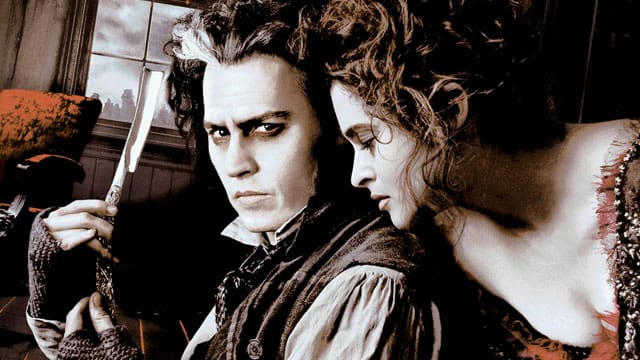 Dinner Theater
November 21 @ 6:00 pm

-

November 23 @ 6:00 pm
SWEENY TODD & CONFLICT
Two one-act plays
Three dinner theater showings:
November 21, 22 & 23
6:00 pm at The Arts Center
Sweeney Todd & conflict
Dinner theater shows:  Nov 21, 22 and 23 at 6:00 pm
On November 21, 22 and 23 our 2nd Act Theater troupe is bringing to the stage Canadian playwright Raymond Hull's macabre tale of Victorian era murder and mayhem in London, Sweeney Todd, as part of a double bill that also includes the play Conflict by Wade Bradford.
The Demon Barber of Fleet Street surfaces in Jamestown… This story has been a part of popular culture since the 19th Century, and has its roots in the melodramatic literature and urban legends of the period.  It first appeared on the stage in 1847 and various versions of the tale were a staple of British theater throughout the 19th Century.  While there is no historical evidence in 19th Century London of a murderous barber with an accomplice making "meat pies" from the victims, Sweeney Todd was based upon an urban legend popular at the time.  Fact or fiction, the tale of Sweeney Todd has struck a nerve in audiences for the past 170 years, both fascinating and entertaining them.
Conflict is about a struggle, a quest, a battle, a challenge, a longing, an agony, a goal that seems forever out of our grasp.  It is a very amusing explanation of how we crave stories in which the protagonist experiences all kinds of hardship.  We, as an audience demand that our characters experience conflict. Enter the Cantaloupe! Conflict won the "Page to Stage" competition at the Repertory East Playhouse in Santa Clarita, CA.
The 2nd Act players are stretching themselves artistically tackling a double bill of comedies that address the absurd and the macabre in equal measure. An evening of entertainment you won't want to miss.
Dinner is included: Pot Pie, Salad, Bread Sticks, and dessert. Catering by Emma Rosie's Home Cooking.
Advance tickets are required. Click the link below to reserve yours.
*Thursday Night is sold out*