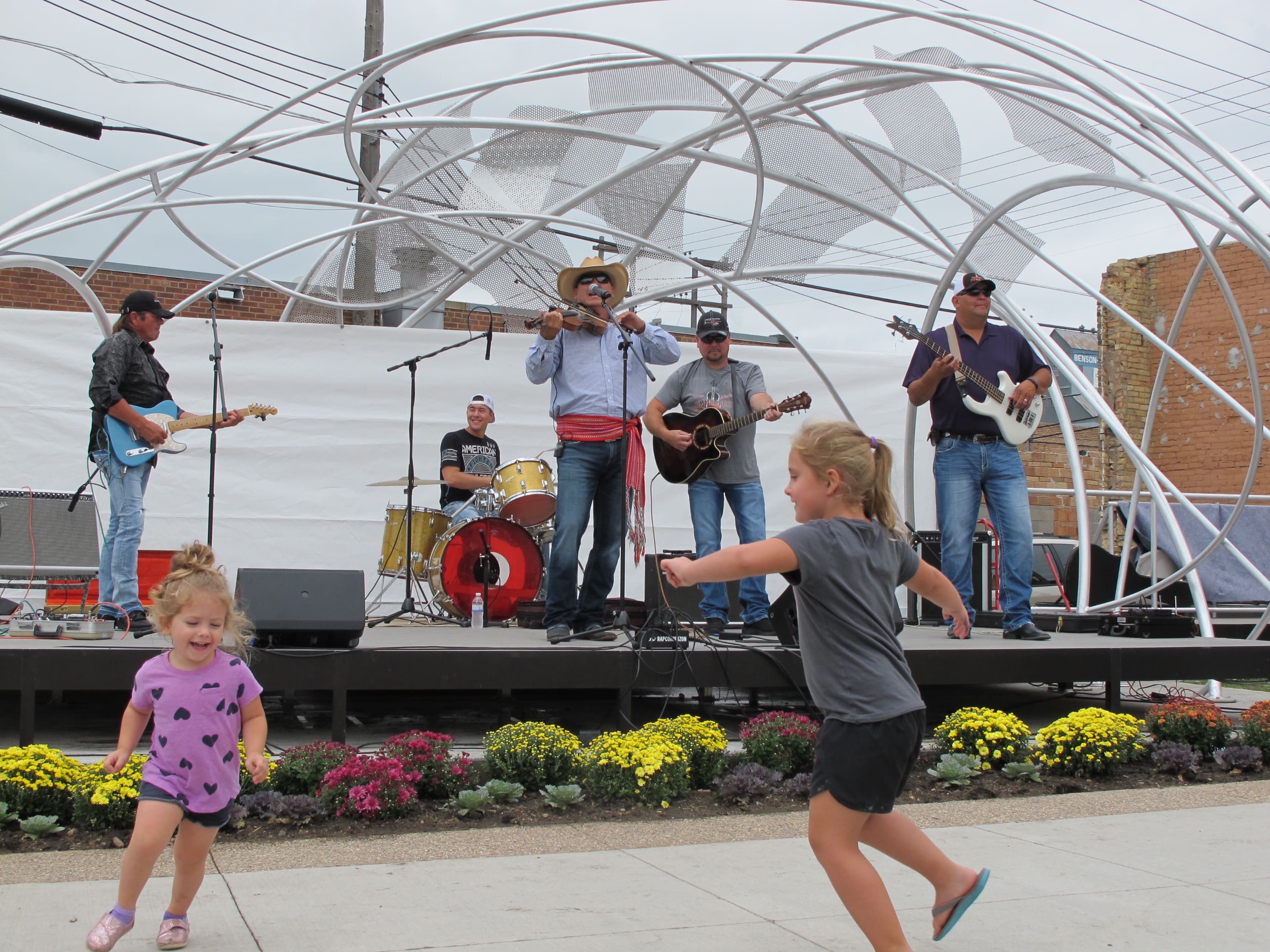 Downtown Arts Market
August 29, 2019 @ 5:30 pm

-

8:30 pm

Every Thursday in June, July & August, 5:30 pm to 8:30 pm, the downtown comes to life with live entertainment and the finest in artisan vendors, all centered on The Hansen Arts Park.  The Downtown Arts Market… a celebration of art and community!
Listen to the finest musicians from throughout North Dakota (and local favorites as well) while browsing the work of talented artists and the wares of the finest artisans in the Northern Midwest.  Fresh, local, seasonal produce will be available as well. And make sure not to miss the special art demonstrations scheduled throughout the summer!
June – Cultural Kaleidoscope: Experience West African drumming and storytelling, East Indian Dancing and heart-pumping Métis fiddling with Ryan Keplin.
July – Celebrate Sweethearts: See Walter Piehl's dynamic "Sweethearts of the Rodeo" painting suite, dance the polka with Matt Hodek & The Dakota
Dutchmen and enjoy North Dakota's song writing sweetheart Jessie Veeder.
August – Community Favorites: Enjoy Americas' homegrown music traditions: Blues, Rock 'n Roll & Dixieland while sampling North Dakota's seasonal homegrown produce.

While you are exploring our unique vendors and enjoying the entertainment, be sure to sample what downtown Jamestown has to offer. Fantastic restaurants and boutiques await your discovery!
Summertime Thursdays in Jamestown just got a lot more exciting!  Join us for a celebration of art and community at the Downtown Arts Market.  Every Thursday in June, July & August.
The Arts Center is considering applications from vendors interested in participating in the market. Interested vendors can download the Vendor Packet here:
Vendor Packet_2019
Performing Artist Line Up and Information:
JUNE: CULTURAL KALEIDOSCOPE
June 6th – GINA POWERS BAND  With: African Arts Arena
5:45 pm – African Arts Arena http://www.africanartsarena.org
African Performing Arts troupe from Grand Forks, North Dakota. The performers will be recreating an evening of storytelling similar to their experience in the countryside of Togo. It is an interactive performance where the audience is an active participant. The audience will learn some Ewe words, an popular international language in West Africa. They'll learn slogans and contribute to the storytelling. There will be drumming, dancing and singing. And the audience is invited to dance, sing and drum.
African Arts Arena is a non-profit organization in Grand Forks. Their mission is to "Use arts to address the issues of inclusive diversity through Arts for Change and Inclusion. Through cooperation and community empowerment of new immigrants, we believe we can facilitate progress in this area. We are always striving to make a difference and invite you to learn more and lend your support."
5:30 – 7:30 pm – Watercolor Landscapes art activity with Linda Roesch
6:30 pm – Gina Powers Band  https://www.theginapowersband.com
The Gina Powers Band is an Alt Country/Americana, Songwriting band from Fargo. They perform regularly and have a full album in the works. Their debut EP was released in April of 2016. They were featured on Prairie Public's Prairie Musicians in July of 2017.
The Gina Powers Band was formed in Fargo, ND in 2015, nearly 4 years after Gina Powers and James Singer began writing music together. Fans encouraged them to expose their original music to a wider audience. As a result of pursuing a soul-quenching thirst for the long-forgotten dream of writing and performing music, The Gina Powers Band was created.
June 13th – DEB JENKINS BAND  With: Margreat Sam (East Indian Dancing)
5:30 pm – Margreat Sam Bharatanatyam East Indian Dance
Margreat Sam is a Master Dance teacher. She taught for 25 years in India and was founder director of Relina's Natyalaya and Reacher center. Hundreds of students completed their Arangetram (a recital) through her institute. She has continued the same in North Dakota, preserving traditional dance art forms, encouraging, sharing and introducing the Indian culture to countless students. Margreat mentors students through the North Dakota Council on Arts Apprenticeship program and has also worked with elders in the Art for Life Program.
Wearing beautiful traditional costume, Margreat will demonstrate Bharatanatyam East Indian dance and encourage the audience to participate. Bharatanatyam is an Indian classical dance that originated in the Hindu temples of Tamil Nadu and neighboring areas.
5:30 – 7:30 pm – The Arts of Warli with Sally Jeppson
6:30 pm – Deb Jenkins Band  http://www.debjenkins.com
A regional favorite for Rhythm and Blues. The Deb Jenkins Band started over 20 years ago as the band called "Second Wind". After some member changes and down time Mike, the Keyboard player and husband to Deb, the lead singer, changed the name of the band to "The Deb Jenkins Band".  The style and type of music performed has stayed true to the beginning with Second Wind. Our style is sometimes referred to as Jazz, but really the heart of our band is rhythm and blues.
June 20th – RYAN KEPLIN BAND  With: Northern Plains Dance Company
5:30 pm – Northern Plains Dance Interactive  https://northernplainsdance.org/
The audience will get to see a dance unfold before their eyes. Audience members will spin a Wheel of Dance and performers (some from the gathered crowd) will create an improvisational dance piece based on what that wheel lands on.
Northern Plains Dance is a 501(c)3 nonprofit organization located in Bismarck, North Dakota. Our professional training facility provides dance training for students ages 3 to adult. Our performances provide opportunities for audiences in the Bismarck area to directly experience and understand dance performance's power to communicate aspects of the human experience, while providing children with an opportunity to gain performance experience in a professional production.
5:30 – 7:30 pm – Love of North Dakota with Jennifer Wentz
Creative arts activities for all ages.
6:30 pm – Ryan Keplin Band  http://www.ryankeplin.com/
A favorite performer this is Ryan's third summer in the Hansen Arts Park. From Belcourt North Dakota, Ryan Keplin has established a positive demeanor as a great fiddle player and entertainer astonishing his audiences whenever he plays. His interests began as a young child when he found inspiration in the music of fiddle greats like Andy Desjarlais, Reg Bouvette and Graham Townsend.
Ryan Keplin has played for various festivals, performances, fiddle contests, square dancing competitions and step dancing competitions in Canada and United States. His Left handed fiddling and unique style attracts the attention of his listeners, which is how he established his stage name "Fiddling Lefty".
This multi-talented entertainer possesses the ability to play not only the fiddle, but also the acoustic guitar, bass guitar, drums, mandolin and piano. Ryan has released 6 CD's containing traditional tunes as well as many of his own compositions.
June 27th – STEVIE K & FRIENDS  With: Open Mic Night
Steve Kuykendall along with other local musicians will open the night. And then open the mic to all poets, writers, musicians, comedians, solos, duos, and any and all performers to share your talent with the community at our monthly open mic night. There will be a sign up sheet at the stage. Please limit your piece to 10 minutes.  Facilitated by local musician Steve Kuykendall who will also provide all amplification.
JULY: CELEBRATE SWEETHEARTS
July 4th – Closed in honor of the Independence Day Holiday
July 11th – MATT HODEK & THE DAKOTA DUTCHMEN With: Spiritwood Homesteaders (American bluegrass)
5:45 pm – Spiritwood Homesteaders
Playing Alternative Bluegrass /folk/and Western music Terry and Linda Schwartz (a Midwestern singing duo), show their versatility by changing their style of entertainment to fit the flavor of the crowd. They have a kaleidoscope of songs that have pleasant, down home and earthy warmth about love, family, and their farming way of life.
Terry has been a poet and songwriter for most of his life, playing his guitar by constant request of family and friends for many local events. It wasn't until the last five years did he produce his songs on a CD: "Life's a One Way Road" with the help of his wife, Linda and several friends and family. Once you start to hear some of his songs, you will always feel like "the Schwartz is with you!"
Terry and Linda started singing together when he found someone that could "make him sound pretty good" with her ability to blend her voice to his in a warm, harmonic quality. Linda compliments their teamwork with her banjo and occasional harmonica. Occasionally their talented grandson, Rylan Schwartz will also help out playing the upright bass.
They have played 7 years at the annual Medora Cowboy poetry event and were special featured in the 2012 and in 2017. They have played at "Roots on The Red" event in Moorhead in 2014. They have played several years for the Annual Cowboy Poetry Gathering at Fort Union State Park near Williston, ND. Terry and Linda enjoyed many years of playing at their local nursing homes.
5:30 – 7:30 pm – Beaded Bracelets with Myra Olson
6:30pm – Matt Hodek & The Dakota Dutchmen http://www.dakotadutchmen.com
This seven-member authentic polka band based out of Lankin, North Dakota plays numerous engagements throughout the United States. Instrumentation is a key part of the band with several members playing multiple instruments including piano accordion, button accordion, concertina, valve trombone, trumpet, baritone, tuba, clarinet, tenor sax, piano and melodica piano along with vocals. Laddie Pecka plays two trumpets at the same time and Rose Pecka & Donnie Swartz entertain with their high energy piano duets. Playing good old time tunes: waltz, polka, schottische and two step tempo, the band will make you tap your toes and put a smile on your face as they play "happy music for happy people".
July 18th – JESSIE VEEDER With: Shadd Piehl (Cowboy Poet) & Waltr Piehl (Artist)
5:45 pm – Shadd & Walter Piehl
Cowboy Poet and Prairie Musician Shadd Piehl a fourth-generation North Dakotan and third-generation rodeo cowboy. Shadd grew up near the Mouse River south of Minot, North Dakota. He has been a ranch hand, stockyard bird, hog hide shaver, warehouse lumper, teacher, and rodeo cowboy. As a saddle bronc rider, he competed mostly through the Dakotas, Montana, Minnesota, Manitoba, and Saskatchewan in various amateur rodeo associations and the PRCA.
He has attended Elko's National Cowboy Poetry Gathering as a featured poet three times and has also appeared at the annual Dakota Cowboy Poetry Gathering in Medora, North Dakota. In 2004 he was named an associate poet laureate by North Dakota State Poet Laureate Larry Woiwode. His poems have appeared in the anthologies Between Earth and Sky; Poets of the Cowboy West, Maverick Western Verse, and the magazines Aluminum Canoe, Pemmican, Red Weather, and Dry Crik Review. In 1999 he published a chapbook of poetry, Towards Horses, with Aluminum Canoe.
During the Market… Featured exhibiting artist Walter Piehl will be doing a painting demonstration in the Park
5:30 – 7:30 pm – Watercolor painting with Sharon Linnehau
6:30pm – Jessie Veeder    www.jessieveedermusic.com    www.veederranch.com    www.youtube.com/jessieveedermusic  Jessie Veeder has been a symbol of folk music in the badlands of Western North Dakota since she released her first original album when she was only sixteen years old. It was an effort that sparked the interest of music enthusiasts and took her from performing at fairs and festivals around her home state to managing a national tour, recording her fifth original album in Nashville in 2015 and publishing a collection of ranch stories, photographs and recipes called "Coming Home" in 2017.
With unique and interestingly beautiful vocals, Veeder's lyrics swell with references to her own life experiences growing up on a working cattle ranch in the rugged land of Western North Dakota. Veeder's ability to captivate audiences with stories of her love for the landscape, the culture and the people of small town America is what pulls at the heartstrings of audiences across the globe and made her original music such a success.
Jessie's nationally acclaimed song "Boomtown," a folk ballad about life for people in the oil fields and wheat fields of Western North Dakota has been featured on area news programs, national and international documentaries and put her on the frontlines of telling the story of community in oil country and Western North Dakota.
But it's not just the music that has gained Jessie followers. Since 2010 she and her husband, Chad, have worked alongside her father as the fourth generation stewards of the Veeder Ranch where she chronicles life on the land as a weekly columnist for state-wide newspapers, as a commentator on Prairie Public Radio and on her popular blog titled, "Meanwhile Back at the Ranch…"  She and her husband are now raising two young daughters and work to teach them about their heritage and value of taking care of the land and animals on the ranch.
Jessie has been a featured artist at the National Cowboy Poetry Gathering in Elko Nevada and was a main stage act at the Red Ants Pants Music Festival. She was named North Dakota's Favorite Folk Artist for 2016 and 2017 and is a recent recipient of the North Dakota Ambassador Award. Her story has also been featured on a variety of news, documentary and travel programs. She has shared the stage with Dan Seals, Bobby Vee, Black Hawk, Sammy Kershaw, Corb Lund, Joe Diffie, The Wilkensons, Brenn Hill, Martha Scanlan, among others.
Backed by some of the best players in the state, Jessie's skill as a heart wrenching songwriter soars in work that remains rooted in the stories of the people and landscape of her home. Listeners can expect to be transported with familiar stories and compelled to sing along to classics.
July 25 – STEVIE K & FRIENDS  With: Open Mic Night
Steve Kuykendall along with other local musicians will open the night. And then open the mic to all poets, writers, musicians, comedians, solos, duos, and any and all performers to share your talent with the community at our monthly open mic night. There will be a sign up sheet at the stage. Please limit your piece to 10 minutes.  Facilitated by local musician Steve Kuykendall who will also provide all amplification.
5:30 – 7:30 pm – Horsing Around with Sally Jeppson
August 1st – BOLDER SHADES OF BLUE  With: Kevin Locke (Native American Hoop Dancer)
5:30 pm – Kevin Locke  http://www.kevinlocke.com  Kevin Locke (Tokaheya Inajin in Lakota translation "First to Rise") is a world famous visionary Hoop Dancer, preeminent player of the Indigenous Northern Plains flute, traditional storyteller, cultural ambassador, recording artist and educator.   Kevin is Lakota and Anishnabe.
Through his performances, he engages people of all ages as active participants in the Hoop Dance.  This allows his audience to immerse themselves in the art of storytelling through dance and music, a deep rooted tradition in his culture.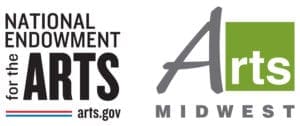 This engagement is supported by the Arts Midwest Touring Fund, a program of Arts Midwest that is funded by the National Endowment for the Arts, with additional contributions from the North Dakota Council on the Arts and the Crane Group.
5:30 – 7:30 pm – Tye Dye shirts with Myra Olson
6:30 pm – Bolder Shades of Blue  Bolder Shades of Blue plays blues & blues inspired rock including classics with some original works. Put on your dancing shoes with Ken Gilbertson on lead guitar & vocals, Paul Salo on bass guitar & vocals, Tamara Dallmann as lead vocalist, and Jim Elmer on drums.
August 8th – BLUE WAILERS  With: The Old Friends
5:30 pm – The Old Friends  Jamestown's own band comprised of veteran players Nick Holden, Kerry Wicks, Ken Gilbertson,Marsha Gums, Mark Urquahart, Jon Beyer, Jeremy Gray & Tamara Dallmann. The Old Friends will delight you with lively gospel, southern rock and country music melodies.
5:30 – 7:30 pm – Love of Fishing – Tying Lures with Robert Olson
6:30 pm – Blue Wailers  thebluewailers.com  The Blue Wailers are a traditional 5-member blues group based in Minnesota. They know that the blues are about feeling good. When life dishes out a dose of trouble, you've got to look trouble square in the eye and sing a song. There is no crying for these guys.
The Wailers respect tradition, paying homage to the greats like Robert Johnson, Son House, Elmore James, and Muddy Waters. At the same time, they are not afraid to reach deep within themselves to bare their souls to their listeners in bursts of creative fury.
The five piece band has years of playing experience. Randy Schrenk plays slide guitar in the style of the best traditional players and sings lead vocals and harmonies. Marty Olson growls out lead vocals and improvises some great lead guitar. Bob Waters stirs the audience with soulful blues harp. And of course, no band can be great without a great rhythm section. Drummer Mike Carbone and bassist Tim Jorgensen fill the bill.
August 15th – KICKS BAND OF FARGO MOORHEAD  With: Bernie & The Other Guys
5:30 pm – Bernie & The Other Guys  Bernie and the Other Guys are: Bernie Madsoe on guitar and vocals, Rodney Brandt on bass and vocals and John Crowston on mandolin and vocals. The group formed about four years ago, playing at open mics, church services, and other events. Their music includes: country, folk, bluegrass,  light rock, and gospel. Group members are quoted to say," We just plain like playing music"!
5:30 – 7:30 pm – Creative art activities for all ages.
6:30 pm – Kicks Band of Fargo Moorhead  The Kicks Band was founded in 1975 by Edward Christianson for musicians to enjoy music socializing, playing great big band literature and to improvise jazz. The band got together just for "KICKS". Ed made it a priority to provide all band members' opportunities to improvise and to feel musically satisfied.
August 22nd – THE GREAT OUTDOORS  With: Prairie Hills Signers (Men's quartet)
5:30 pm – Prairie Hills Signers  The Prairie Hills Singers were formed in 1980with talent from around the Medina ND area. This talented group of men have sung at weddings, open houses, anniversaries, funerals, Christmas concerts and conventions. Their repertoire includes music of the Statler Brothers, Oak Ridge Boys, Gaither Family with hymns, gospel, barbershop, country and more.
5:30 – 7:30 pm – Creatures in Clay with Bill Nybo
6:30 pm – The Great Outdoors  http://thegreatoutdoorsband.com  The Great Outdoors is a Country/Variety band based in Fargo, ND. The band features dynamic vocals, fiddle, keys, guitars and drums. The Great Outdoors will get the crowd up on their feet. With a wide variety of songs and styles, the band gets the party started right. There is no limit to what the band can throw out to an audience. From blazing country fiddle tunes and current country radio hits to Chicago Blues and get your heart pumping Classic and 80's/90's Rock. These boys will get it done.
August 29 – STEVIE K & FRIENDS  With: Open Mic Night
Steve Kuykendall along with other local musicians will open the night. And then open the mic to all poets, writers, musicians, comedians, solos, duos, and any and all performers to share your talent with the community at our monthly open mic night. There will be a sign up sheet at the stage. Please limit your piece to 10 minutes.  Facilitated by local musician Steve Kuykendall who will also provide all amplification.
5:30 – 7:30 pm – Watercolor bubble painting with The Arts Center staff
This HUGE undertaking is only possible thanks to our many supporters, volunteers and grantors. Including, but not limited to, these Arts Market sponsors:
Association of American University Women
Dakota Central Communications
Downtown Dental
Dr. Jason Braun DDS
Farmers Union
Farmers Union Insurance
First Community Credit Union
H&R Block
Hillerud Construction
Hugo's Marketplace
i3G Media
Interstate Engineering
Jamestown Downtown Association
Jamestown Chamber of Commerce
Jamestown Community Foundation
Jamestown Regional Medical Center
Jamestown Sun
Jamestown Tourism
Jonny B's Brickhouse
Liechty Homes
Lifetime Vision Source
Medicine Shoppe
Newman Signs
North Dakota Council on the Arts
Rotary Club of Jamestown
Unison Bank
United Way
Walter Brothers Lawn Service
.