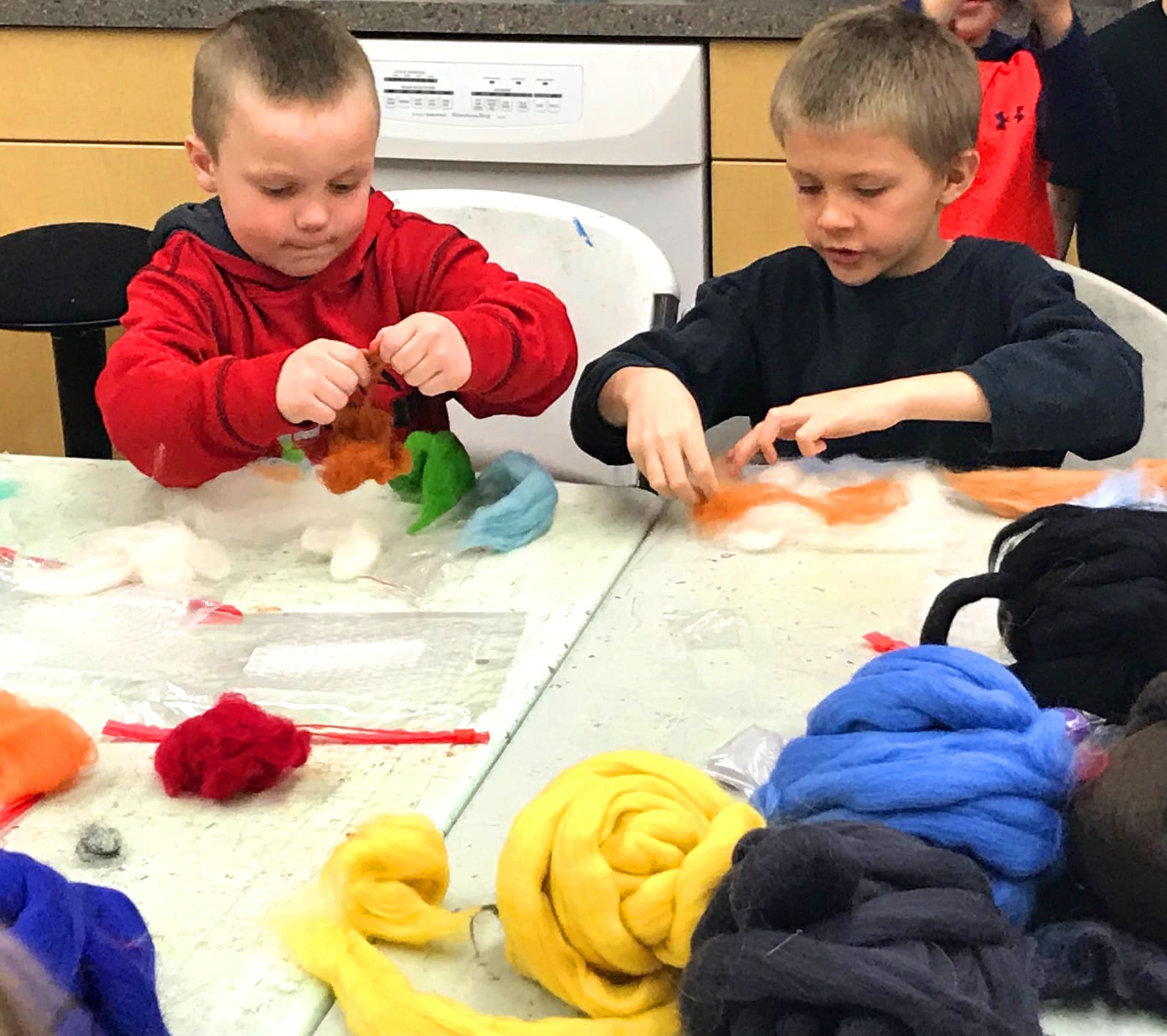 Arts Sessions for Homeschool
September 14, 2018 @ 10:00 am

-

May 24, 2019 @ 12:00 pm
Art Sessions for Homeschoolers
Classes will be the second and the fourth Friday of every month from Sept 2018 to May 2019. Class will be held at the Arts Center at 115 2nd St SW, Jamestown from 10:00 am – 12:00 pm. Cost per class will be $10.  This includes all instruction and supplies needed to complete a project that the student can take home.  Classes are for homeschool students age 5 to 18.  All classes will be lead by homeschool mom and Art Center Education Coordinator, Myra Olson. To register for any of the following classes, contact Myra directly at 701-251-2496 or molson@jamestownarts.com.

Nature Art • Sept 14 – Students will be exploring the world of nature and will be creating flower and leaf prints and a rock mandala.
Mystery Braid Bracelet • Sept 28 – In this class students will be working with leather and learning a unique technique to braid a piece of leather that is closed on both ends.
Crafty Yarn Creations • Oct 12 – In this class students will be learning about the beautiful yarn paintings in Mexico and will be creating their very own geometric masterpiece.
Candle Making • Oct 26 – Students in this class will be making 2 rolled beeswax candles. We will be learning about the bees and their production of honey and wax.
Woven Tapestry • Nov 9 – Students will be introduced to the world of weaving and will be able to create their own woven potholder and go home with a cookie recipe.
Needle Felted Christmas Ornaments • Nov 30 – Students in this class will be using locally grown wool and a needle felting to make 3 Christmas ornaments for their tree at home.
Mini Monet • Dec 14 – In this acrylic painting class, students will learn about impressionism and Claude Monet. Students will create their own impressionistic painting as they learn about this style of art.
Creative Journaling • Dec 28 – Students in this class will be making their own daily journal. We will be talking about the many ways to use the journal. For art and drawings, for collections or to reflect on the day and to help promote writing.
Ceramics • Jan 11 & Jan 25 – In January students will be in the clay studio creating a hand crafted clay pot. The first class of this session on Jan 11 and will focus on design and building. The second class of the session on Jan 25 we will be glazing our projects. Projects will be available for pickup after they are fired sometime the next week. *Cost for this two session class will be $35. Must attend both classes.
Sew Fun: Pocket Warmers • Feb 8 – In this beginning sewing class, students will be able to sew a set of two reusable rice filled pocket warmers. Just pop them in the microwave before heading out and they will keep your hands toasty.
Printmaking/Textile • Feb 22 – In this class will we learn about large textile house like Marimekko and create our very own custom stationery and patterned gift wrap.
Art and Cooking • March 8 – In the first half of class, students will create a simple charcoal drawing. The second half of the class will be dedicated to creating a culinary creation. This teaches kids how art and cooking are connected.
Poetry • March 22 – Students will learn the fundamentals of constructing several different styles of poems. They will be able to take these poems home in a notebook that they make in class.
Watercolor Illustration • April 12 – In this class students will be using watercolor pencils and paints to create a beautiful landscape painting ready to hang when they get home.
Poetry/Creative Writing • April 26 – Students will explore the different ways of narrating or telling a story. They will also learn the fundamentals of constructing several different styles of poems.
Jewelry Making • May 10 – Come and create a beautiful necklace pendant with photo transferring as a gift for our mother's for Mother's Day. Students will learn a simple process of photo transferring that can be used to create this project and many more later on at home.
Plein Air Art • May 24 – During the last class of the 2018 – 2019 school year, we will be creating bubble and squirt gun paintings outside! We will also be making tie dye t-shirts. Students should bring their own white t-shirt for this project.