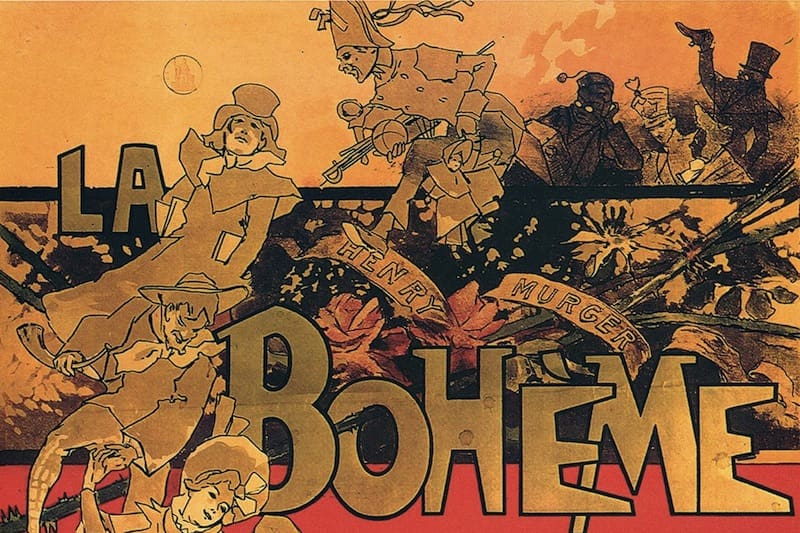 La Bohéme
February 5, 2018 @ 5:30 pm

-

7:30 pm

|

$40 – $50
La Bohéme
La Bohéme by Giacomo Puccini with Larry Kopp
Mondays: February 5, 12 & 19 from 5:30 – 7:00 pm at The Arts Center Gallery
Simulcast: February 24, 11:55 pm at Century 10 Theater, 3931 9th Ave South, Fargo

If you asked any group of opera lovers—or complete opera neophytes, for that matter—to name their favorite opera, chances are that La Bohème would top the list!  What makes Puccini's opera such a perennial favorite?  Join us during our Metropolitan Live in HD series to find out why as we explore what is possibly the most beloved opera ever composed.
La Bohème tells the story of four young starving artists living the "bohemian" life in Paris' Latin Quarter in the 1840's.  The tragic love of the poet Rodolfo and Mimi is at the heart of the opera, but we also meet the artist Marcello and his love, the courtesan Musette, whose stormy romance is a comedic counterpoint to Mimi and Rodolfo.  Filled with the high jinks and youthful joie de vivre of the artists, with the "City of Lights" as a backdrop, the bittersweet story and lovable characters of La Bohème play a large part in its popularity.   
But the plot and characters are only part of the story; Puccini's music for La Bohème is simply magical.  The melodies are incomparable, bringing the "Bohemians," the story, and 1840's Paris to life.       
The Metropolitan Opera Live in HD Series broadcasts live performances from the stage of the world's greatest opera house in New York City to over 2,000 theaters in 70 countries.  The Arts Center's Live in HD Series pairs three classes on the opera La Bohème with a visit to Fargo for a performance of the Metropolitan Opera broadcast live on Saturday, February 24th.  The classes provide background information that helps you understand and appreciate the opera, and also the broadcast is an even better way to enjoy a Met performance than attending "live" with the best seats in the house.  With digital sound and incredible views of the stage- not to mention reclining leather seating and popcorn—there is no better way to enjoy Pucini's masterpiece than by pairing The Arts Center's classes with a performance from the Met's Live in HD Series.
This series is ideal for both opera lovers and those who have never before attended an opera.  La Bohème is the perfect introduction to the art form- you cannot help but be moved by the unsurpassed music, the poignant story and endearing characters.  Join Rodolfo and Mimi, Marcello and Musette, Colline and Schaunard, that merry band of Bohemians, as we venture back to 1840's Paris as we explore Puccini's masterpiece La Bohème!
Class fee $50 / $40 for members includes tickets for the simulcast.