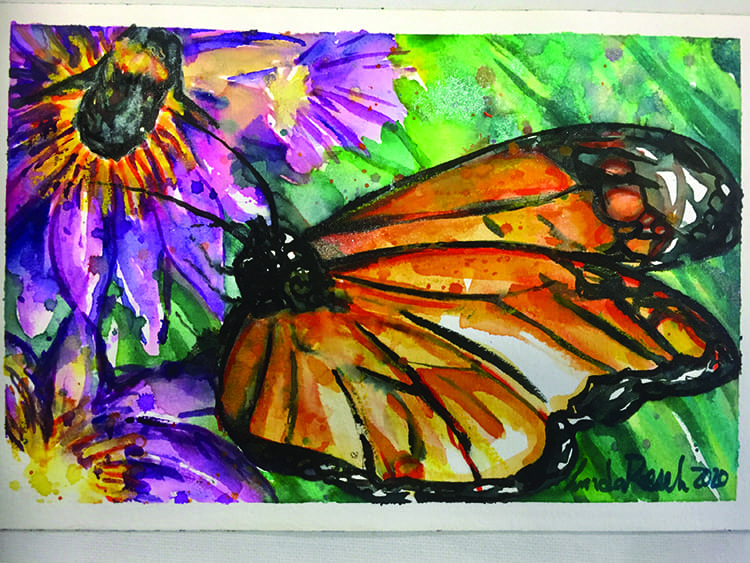 Mini-Art Hunt
July 25, 2020 @ 10:00 am

-

July 26, 2020 @ 5:00 pm
The 2020 Mini-Art Hut
The Mini-Art Hunt is an annual favorite in Jamestown. It brings art to the people, and people to the parks!  Ten unique mini-artworks by artist Linda Roesch will be hiding throughout the Jamestown parks and Historic Sites. Can you find them?
Linda's miniature paintings are 1.5″ x 1.5″ acrylics. Linda created these pieces inspired by our precious pollinators who have been in decline due to climate issues. This is Linda's last year with The Arts Center, so grab one of these unique pieces while you can.
The hunt begins: Saturday, July 25th and ends when all 10 art works are found!  You can find clues at during the Buffalo Days on The Arts Center's Facebook page.
CLUES: Three Sets of Visual Clues (photos) to each artwork's hiding place will be made public on Saturday, July 25th at 10:00 am, 12:00 pm and 2:00 pm. The first clues will be the most challenging with the final clues being the most revealing.
HUNTING: All artwork will be hidden in PLAIN SIGHT—You will not have to move, dig, or otherwise damage anything. Visual clues to the artwork hiding places will be posted on our Facebook page and available at The Arts Center's booth in McElroy park during White Cloud Days.
FOUND: Finders keepers! This original piece of miniature artwork is yours to keep. Be sure to REPORT YOUR FIND. No one wants to be hunting for a piece that has already been found. Post a photo of yourself and your found treasure to our Facebook or Instagram page. Or contact the Arts Center office (701-251-2496 / info@jamestownarts.com) to report your find.
LIMIT: Please only one artwork per family (you are welcome to locate them all, but claim only one).
So, get out to the parks and good luck on the hunt!