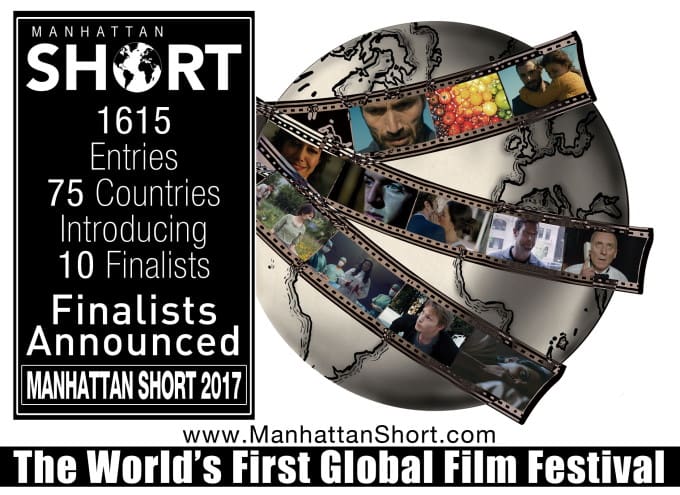 Manhattan Short Film Fest
September 29, 2017 @ 7:00 pm

-

September 30, 2017 @ 9:00 pm

|

$10 – $15
Manhattan Short Film Festival
September 29 & 30
7:00 pm at The Arts Center
Filmgoers in Jamestown can unite with over 100,000 film-lovers around the world during the week of Sept 28 – Oct 8 when the 20th Annual MANHATTAN SHORT Film Festival screens at The Arts Center.
Record Number of Entries: The 10 MANHATTAN SHORT finalists hail from nine countries with films from Syria, Latvia and Georgia representing their respective countries for the first time in this event. Two short films hail from Spain, the only country with multiple Final 10 selections. These Final 10 short films represent the best short films among a record 1615 submissions from 75 countries received by MANHATTAN SHORT for 2017, testimony to the enduring vibrancy and creativity of short films. This year's Final 10 represent an extraordinary range of film genres with comedy, drama, horror, sci-fi, animation and martial arts short films all part of the MANHATTAN SHORT program. Click Here to view the trailer.
The Final 10 are: Do No Harm (New Zealand), Behind (Spain), Fickle Bickle (USA), Hope Dies Last (United Kingdom) The Perfect Day (Spain), Just Go! (Latvia), Mare Nostrum (Syria), Viola, Franca (Italy), In a Nutshell (Netherlands) 8 Minutes (Georgia). Click here to learn more about the films.
You Be the Judge! Will MANHATTAN SHORT audiences select any Oscar winners this year? They did two years ago! MANHATTAN SHORT's 2017 Final 10 will not only entertain a global audience but will be judged by them as well. Viewers will become instant film critics as they are provided a ballot to vote for the Best Film and Best Actor. The world's directors and actors anxiously await Jamestown area votes.
Admission is $15 / $10 for Arts Center members.