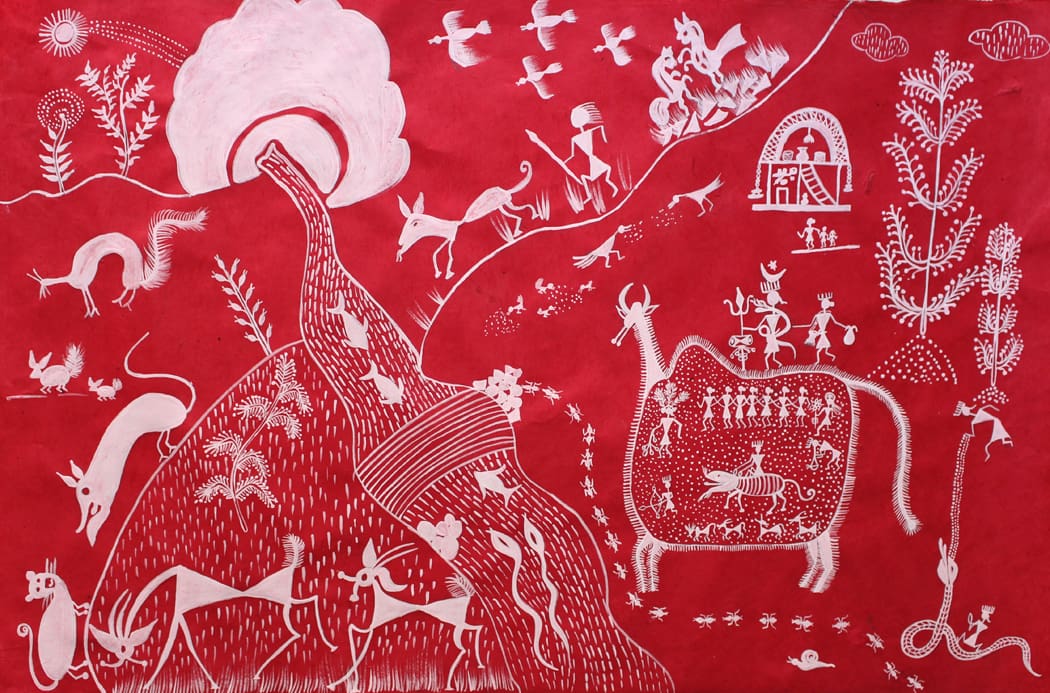 Exhibit: Narrative Geometry
May 9 @ 9:00 am

-

June 15 @ 5:00 pm
Narrative Geometry
The Arts of Warli by Vaishali Mohite
May 9 – June 15, 2019
The Arts Center Gallery is open
Weekdays: 9:00 am – 5:00 pm
Saturdays: 10:00 am – 2:00 pm
Admission is always free.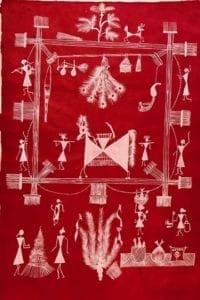 Palm trees, trains, elephants, cows, snakes, fish and dancing people are only a few of the characters you will find in the exhibit, Narrative Geometry. Each painting, created by Vaishali Mohite, is a snapshot of village life in the Maharashtra region of India.
The artist continues a folk art tradition called Warli. The Warli are the largest tribe found on the northern outskirts of Mumbai, in Western India, and they have been creating these paintings for over 10,000 years.
While there are no records of the exact origins of this Warli art, its roots may be traced to cave paintings. The paintings are a vivid expression of daily and social events of the Warli tribe. Traditionally, these tribal paintings were done in the homes of the Warli people. Painted white on mud walls, the artwork usually depicted scenes of human figures engaged in activities like hunting, dancing, sowing and harvesting. These themes, organized in vignettes are often highly repetitive and symbolic. Historically, the Warli had no written language, so these paintings served as visual narratives to communicate, reinforce, and celebrate
their folk culture.
Vaishali learned the art from her mother who owned a shop in Mumbai. They are pictographic, created using simple shapes, triangles, dots, lines, and circles in a loose rhythmic pattern.
Warli folk painting has spread beyond the Warli region and people. Today, designers and artists are enchanted by the simplicity and pattern of this art form, it has become part of popular culture finding its way into fashion and home decorating. The art is sophisticated in its simplicity with broad appeal for its design and content.
EXHIBIT LUNCH – Wednesday, May 29. Starts at 12:00 pm at The Arts Center.
Enjoy lunch and learn more about the current exhibit from Gallery Manager Sally Jeppson
who worked with the North Dakota Council on the Arts to design the exhibit.
A homemade lunch will be provided for $5 (or bring your own). 
RSVP for lunch by May 28 by calling 701-251-2496
In Vaishali's Warli paintings we see modern times intersecting and blending with traditional village life. This body of work is reflective of the dichotomy of Indian life today. While technology, industry and population continue to expand and evolve, many aspects of rural life remains as it has for centuries.
This exhibition was organized by The North Dakota Council on the Arts for its Art for Life Program, which seeks to improve the emotional and physical well-being of elders through art and artist interaction. Three Art for Life activity plans were created that relate to this exhibition. These plans outline activities related to the Warli paintings including creating Warli Animal Paintings, Children's Games and Animal Stories. 
Two of the activity plans encourage animal-assisted art activities by working with a zoo, animal shelter or rehabilitation center, or other individuals or organizations that work with animals.  All three plans were developed also with an eye towards intergenerational interaction.
Elders from Ave Maria Village and Heritage Center and children will come together to do these activities while the exhibit is in Jamestown. This will include a visit from the Whapeton's Chahinkapa Zoo to inspire collaborative, intergenerational Waril-style animal paintings. Another activity and conversation surrounding childhood games will provide inspiration for more paintings.
Look for other associated activities including a collaborative painting in the gallery,
a Wonderful World of Warli summer arts camp, a visit from East Indian dancer
Margreat Sam and more. (Above Photo credit: Troyd Geist, Folklorist for NDCA)
Pictured above: To Put, acrylic on handmade paper, 38″ x 28″
Featured image: Venerated, acrylic on handmade paper, 28″ x 38″