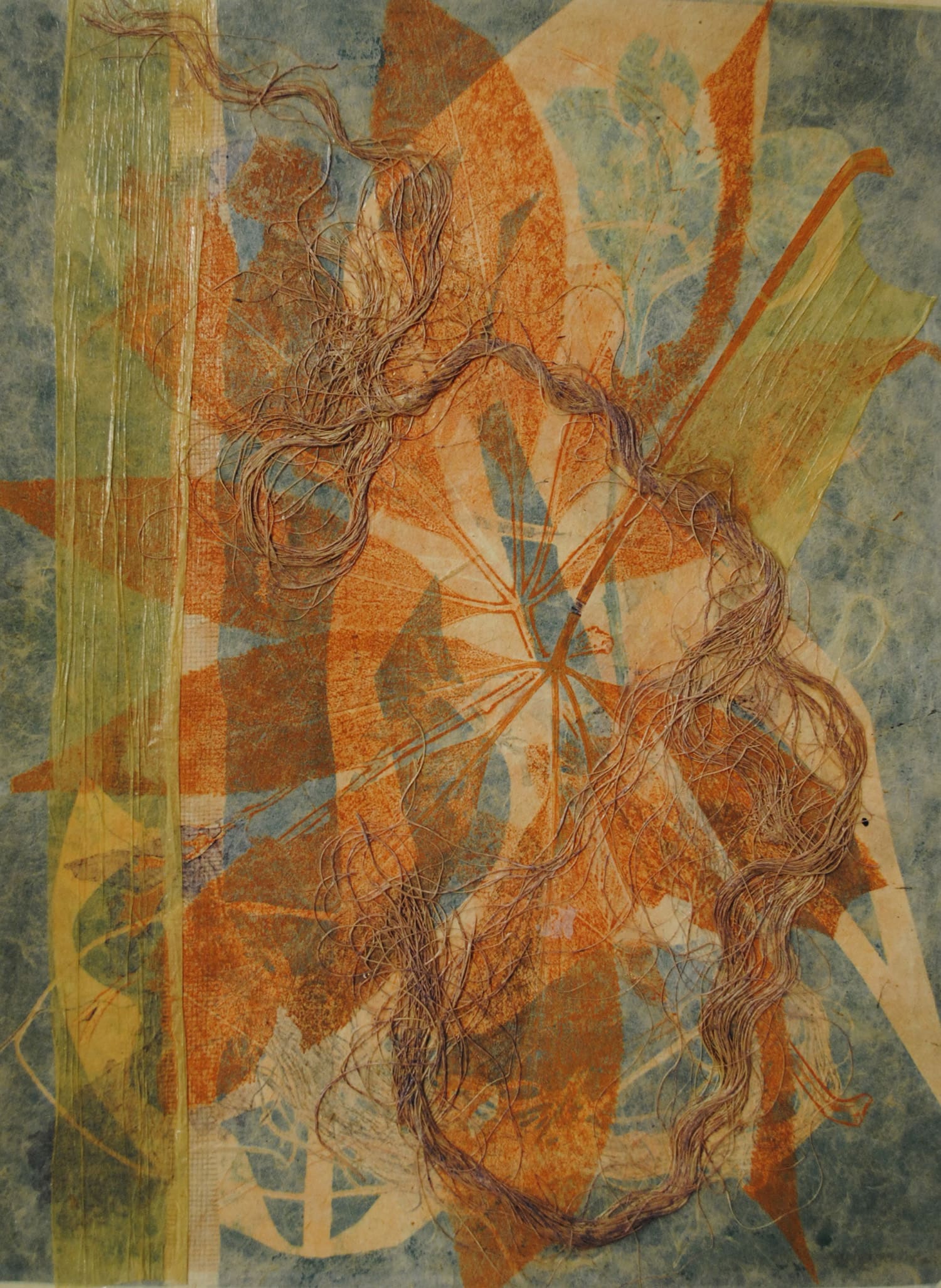 Nuances by Michelle Lindblom
April 7, 2016

-

May 7, 2016
The title "Nuances" describes the visual subtleties of the textures, colors, shapes, and movements in nature which are an apt metaphor for our everyday encounters. Lindblom has always been intensely mindful of her surroundings and as her artistic journey continues, she has found a heightened sensitivity and an increased interest in engaging and visualizing those everyday encounters. The resulting visual nuances are intriguing and unique, much like nature herself.
The exhibition is a result of the artist's experimentation with and assimilation of the monotype and collage processes. These processes lend themselves well to the concept of layering materials and ideas. Her approach to experimentation and discovery is both conscious and subconscious, not unlike like that of a child playing and naturally interacting with his/her environment. Lindblom layers up to four monotypes on a single piece with the addition of a variety of other materials adhered to the surface she creates her multi-layer collages. Organized by color; shades of violet, shades of red, and earth tones the artist captures the atmospheric subtleties of an abstracted Nature.
Ms. Lindblom was born and raised in ND, receiving her undergraduate degree in art from the University New Orleans, LA, Master of Science degree in educational administration and Master of Fine Art from UND. Michelle taught painting and drawing at Bismarck State College for 24 plus years and just recently retired as a tenured full Professor. She has exhibited her work all over the U.S. and has traveled extensively. Michelle currently resides in Bend, OR.
This exhibit of forty five 18×15 framed collaged monotypes visually express Michelle's reverence for and dialogue with nature and it's subtle nuances.
This exhibition is sponsored by the North Dakota Art Gallery Association with support from the North Dakota Council on the Arts, which receives funding from the State Legislature and the National Endowment for the Arts.