Summer Camps
June 7 @ 9:00 am

-

August 14 @ 2:00 pm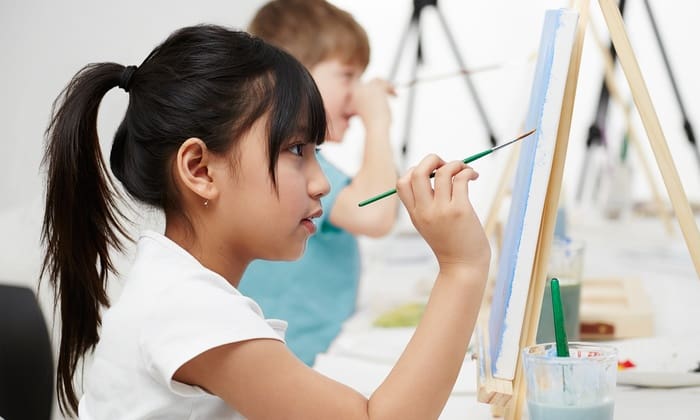 SUMMER 2021
The Arts Center has scheduled some fun new classes for Summer 2021. These classes are designed for students is grades 3 – 6* and are Monday through Thursday from 9:00 am – 12:00 pm. Parents are responsible for student transportation to and from the program.  *Pottery Wheel class is limited to 6 students per session in grades 5 – 8. The summer musical is open to grades 3 – 7.



Summer 2021 Schedule
The Wonderful World of Disney with Jennifer Wentz • $120
June 7 – 10  & June 14 – 17 from 9:00 am – 12:00 pm
Join us for a magical two weeks as we welcome back Jennifer Wentz! Miss Jennifer has an extensive knowledge on all things Disney and even works as a Disney Specialist Advisor for a travel agency! The students will learn about the history of Disney and dive into really fun art projects based on classic Disney movies, shows, and characters. Don't miss out on this magic-packed summer camp!
Chalk Art with Kathleen Roehm • $60
June 21 –  24 from 9:00 am – 12:00 pm
In this four-day session we are building up to our Downtown Arts Market Kick-Off event: Chalkfest! We will learn how to design pictures, graph them out on paper, then bring them to life in chalk! We will also work on chalk art techniques such as blending. Weather permitting, all of our art will be outside the Arts Center for you to check out during our first Downtown Arts Market!
Making Fun Things (Basic Ceramic Handbuilding) with Bill Nybo. •. $60
June 28 – July 1 from 9:00 am – 12:00 pm in the Hansen Arts Studio
It's time to get your hands dirty! Bill will be teaching students how to create fun ceramic pieces using basic coil work. Afterwards the kids will have the opportunity to embellish pieces by creating faces, adding designs, stamping, etc. After firing the clay, students will use acrylic paint to add color to their creation. At the end of this session they will be able to take home a coil pot, box, and other items they created!
Pottery on the Wheel with Shelly Sayler • $60
July 5 – 8 from 9:00 am – 12:00 pm (First Group)
July 5 – 8 from 1:00 – 4:00 pm (Second Group)
Hanson Studio
If you don't mind getting your hands dirty, this is the course for you! This week long workshop is a fun way to unleash your energy and creativity. We will practice many techniques for beginners and students who have worked with clay before. Wedging, centering, lifting, opening, tapping, trimming…before long you will be talking like a potter. We will learn all of these terms and how they work, ALL HANDS ON! From throwing your form, getting it off of the wheel to trimming a neat foot in your pieces and adding extras. You will make functional bowls, mugs and learn how to add decoration and texture. All finished pieces will be food safe, microwave safe and dishwasher safe.
Wearable Art—Paint a Matching Hat and Shoes with Linda Roesch • $60
July 12 – 15 from 9:00 am – 12:00 pm
Students will work in acrylic paint to create their own designs on shoes and a hat.  Students will learn about maintaining consistency in their art, and working with line, color and pattern.  Students will get to experiment with different painting materials and techniques to add texture and contrast to their wearable art.
Trading Card Game & Board Game Design with William Hessian • $60
July 19th – July 29th from 9:00 am – 12:00 pm
Do you like Pokemon, Yugioh, Magic, Munchkin, Settlers of Catan, and/or Monopoly? Have you ever wanted to make your very own card game or board game to play with friends and family? In this two week class students are challenged to invent their own card game in the first week, and then invent a board game the second week. Students will learn fundamental game design and then make up characters, draw animals, monsters, and items and figure out mathematical systems (luck vs skill) that make the games fun to play. The class teaches students important design elements, function, communication, text, rule book writing, drawing, composition, color theory, character development, world building, mathematics, probability, and repetition. The final day we pull out all the cards together and spend the final day playing the games invented.
SUMMER MUSICAL: "Recess!"  with Director Mark Reeves • $60
Audition Dates: July 9th & July 16 from 10:00 am – 12:00 pm at TRPAS
Rehearsal Dates: August 2 – August 13 from 9:00 am – 3:00 pm 
Performance Dates: August 14 at 2:00 pm and 7:00pm
Performance Location: Arts Center Stage
This session is a collaboration with Two Rivers Performing Arts School (TRPAS) and open to students in grades 3 – 7. Okay, class, pop quiz time. What do you get when you mix a young substitute teacher with a classroom full of the seemingly dumbest (and funniest) pupils found anywhere? A wise-creaking musical that's sure to put a smile on the principal's face, that's what. When Miss Quackenbush takes over a class at the Little Red Schoolhouse, she soon discovers why the previous teacher had a nervous breakdown. Bad poetry, mice in the lunch boxes, and a student with the measles is enough to drive anyone crazy. Unless the likable but hare-brained pupils can pass a simple exam, they won't advance to the next grade. It's one inane answer after another as Miss Quackenbush tries to promote this bunch of block heads outta here. It won't be easy, though. Only a fool would want to leave this school.