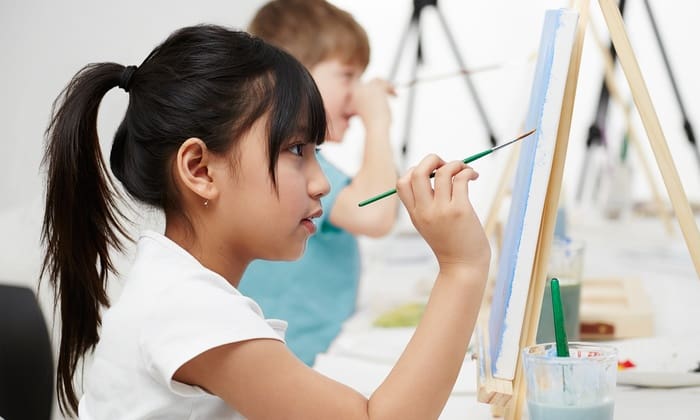 Summer Kids Camps
June 3, 2019 @ 10:00 am

-

August 3, 2019 @ 3:00 pm
Creative Fun for Kids
Whether your child is a budding artist, an explorer, or an adventurer—every class offers something right up their alley and will open their eyes to new experiences.
Students will learn in a supportive, small class setting with plenty of individual instruction. Creative challenges await!
REGISTRATION INFORMATION: All classes are $60 per student (Arts Center members get $5 off per class). Students need to pack a lunch.  It's quick and easy, register online or call the office at 701-251-2496.  Classes are 10:00 am – 3:00 pm. Monday & Tuesday are designed for students who have completed grades K – 2. Wednesday & Thursday are designed for students who have completed grades 3 – 6.
Summer kids camps start June 3rd and run through August 1st.
SCHEDULE:
Week 1  • June 3 – 6  • Watercolor sketching with Linda Roesch:  Watercolor sketching in the great outdoors!  We will learn basic watercolor techniques for sketching in nature, then use what we've learned to capture our surroundings.  Students will learn about keeping a sketchbook, and we will make our own portable palettes to take home.
Week 2  • June 10 – 13  • Wonderful World of Warli with Sally Jeppson: What's more fun than animal art, games, puzzles, storytelling and dance? We'll visit The Arts Center's gallery and explore the traditional art from western India called Warli. Warli art uses simple geometric shapes to create figures, animals and scenes of daily life. Students will create a variety of artworks all using the Warli style for inspiration, including paintings, drawings and pottery. As a special treat, students will get moving with east Indian dance instructor Margreat Sam who will be performing during the Downtown Arts Market on June 13th.
Week 3  • June 17 – 20  • North Dakota Pride with Jennifer Wentz:
We will be doing landscapes, sunrises and sunsets.  We will be learning different variations of landscapes, crops, seasons and animals in ND.  The medium we will use is chalk pastels, oil pastel, water color.  Along with the beautiful artworks, we will make bookmarks, key chains and a North Dakotan self portrait.
Week 4  • June 24 – 27  • German Folk Art Paper Cutting with Sabrina Hornung:  With this class students will learn the basics of scherenschnitte the traditional German folk art of cut paper, and wycinanki the traditional Polish art of cut paper. Though the two share similarities Scherenschnitte is traditionally silhouette based while wycinanki is more colorful and collage based. On day one we will learn the basics of scherenschnitte and wycinanki and day two we will work on a large scale group project!
Week 5  • July 8 – 11  •  Jewlery Jam with Jennifer Wentz: Send the kids in for some awesome Jewelry Making! Keep their brains busy with design and creativity! Each day we will create new pieces of beaded jewelry, learning how to safely use different types of jewelry pliers and techniques. Elements of measurement, design, and color will be explored and learning how to create jewelry really rocks!
Week 6  • July 15 – 18  •  Exploring Nature and Culture through Art with Sharon Linnehan: Participants will explore many different artists and artworks with painting, drawing and appliqué projects. We'll explore nature for inspiration, learn how color can be used to show depth and space & much more.
Week 7  •  July 24 – August 3  •  Theater Camp "Jack & the Giant" with Two Rivers Performing Arts
July 24 – 26:  1:00 – 4:00 pm at Two Rivers Performing Arts School (TRPAS)
July 29 – August 2:  9:00 am – 3:00 pm at the Arts Center
August 3:  3:00 & 7:00 pm public performance at The Arts Center
Auditions: June 21 & 28 at 6:00 pm at TRPAS, and June 22 & 29 at 10:00 am at TRPAS. Each student must attend one of the auditions to receive their part. The cast list will be posted both at the Arts Center and TRPAS on Sunday, June 30, and rehearsal materials will be available on July 1. This will allow cast to have scripts and scores for a couple of weeks before camp begins. More details to come.
Week 8  •  July 29 – August 1  • Horsing Around with Sally Jeppson
Love horses?  In this camp students will do a variety of art projects that have a connection to horses – horse hair braiding, horse painting and pottery horses.