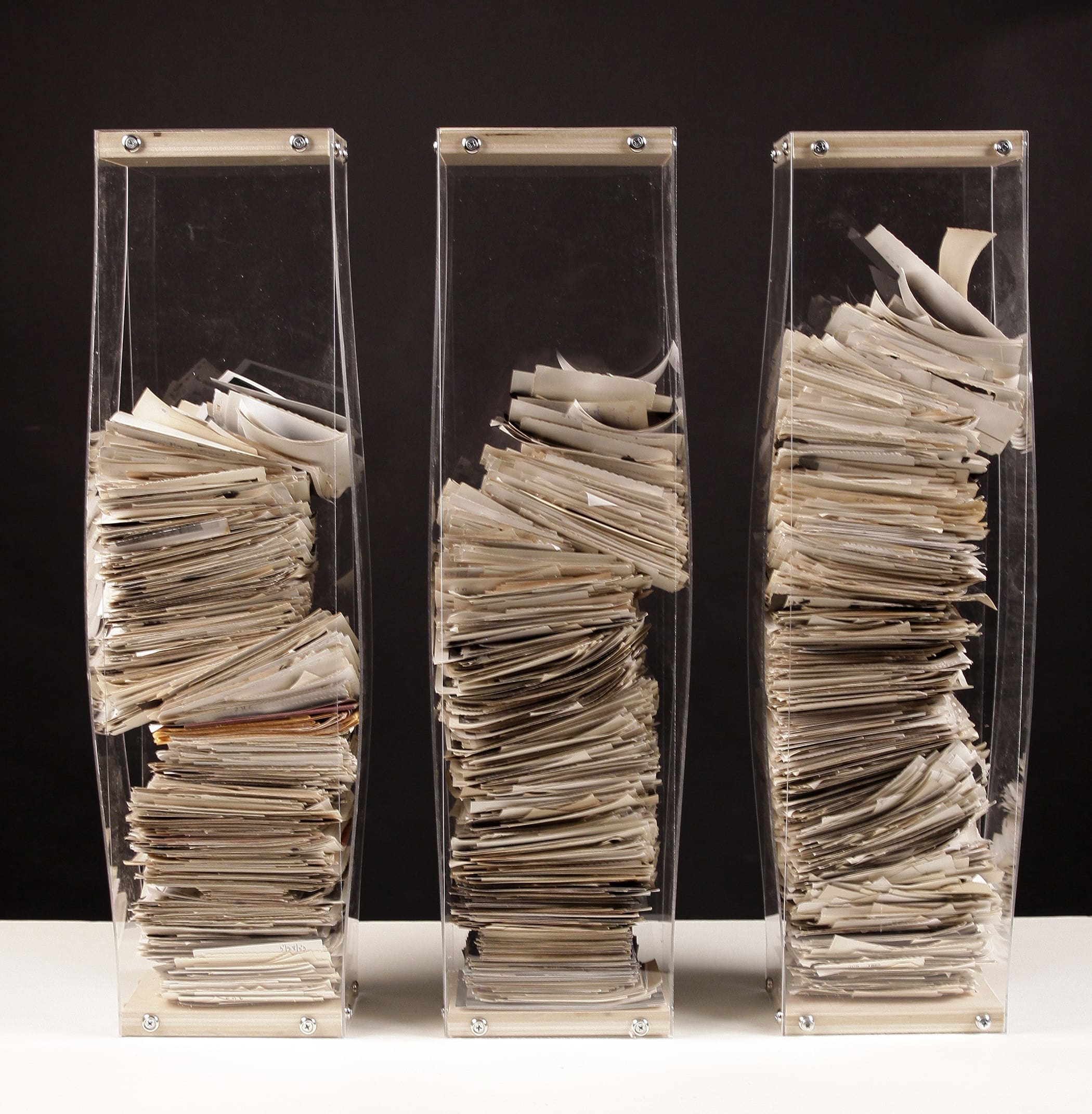 Exhibit: Touching Photographs
March 28 @ 8:00 am

-

April 27 @ 5:00 pm
Touching Photographs by Ryan Stander
March 28 – April 27, 2019
The Arts Center Gallery is open
Weekdays: 9:00 am – 5:00 pm
Saturdays: 10:00 am – 2:00 pm
Admission is always free.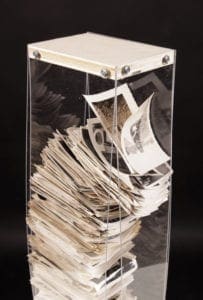 If you have ever been in an antique store and spent time looking through shoeboxes of photographs you will enjoy this exhibition. The artist Ryan Stander invites viewers to consider human identity, memory, and the nature of photography, through the common photograph. With interactive installations and mixed-media work, Stander asks the viewer to engage the found photographic objects as unique meeting points of past and present, memory and identity, persistence and loss.
Twenty years ago, the contents of a re-purposed Nike shoebox punctured something within the artist. Such a simple box of old photos filled with unfamiliar faces, disconnected stories, and suspended conversations still hanging in the air. With each photograph he fumbled through, grew a deeper realization of our shared humanity and mortality. Stander wondered then, and still does today, who are these people? What are they doing in this box? Will this be our fate as well?      
In our own photographs we recognize that time, that place, that event, and that face. That which was, remains in the photograph. Birthdays, holidays, and funerals all persist and linger (often outliving the subjects of their frames). Stories animate these objects across generations, but over time, the stories fade. Once disconnected, these photographic objects rest silently in a curious amnestic state. Unable to speak, they are cut off from us with an insurmountable and ever expanding gulf of history passing between them and us. And yet, while we hold and look at these objects and faces, they still have a strange power to touch and remain with us in remarkable ways.
Following two related trajectories, this mixed-media exhibition uses the ordinary photograph to raise a variety of layered questions. One approach takes the form of a modern scientific archive that evokes ideas of history, the curator, and museum practices. The other approach draws out the more sentimental and ephemeral connections to memory and identity. By allowing a direct engagement with the photographic objects, viewers are also allowed to explore and consider the history and nature of the photographs themselves.
EXHIBIT LUNCH –Thursday, March 28, 2019, noon.
Enjoy lunch with artist Ryan Stander. Hear about his work and the current exhibition.
A homemade lunch will be provided for $5 (or bring your own). 
RSVP for lunch by March 27 by calling 701-251-2496
Artist Bio: Originally from the farmlands of northwest Iowa, Ryan is a transplant to central North Dakota. He's alternated his education between art and theology [MFA from the University of North Dakota, MA in Theology from Sioux Falls Seminary (SD), and a BA in Art from Northwestern College (IA)]. Drawing upon his theological background, the themes of memory, identity, and place often rise to the fore in his work.
As a photographer and printmaker, his work has been exhibited internationally in South Africa, China, Central and South America; nationally in New York, New Jersey, and Massachusetts; and across the Upper-Midwest. Stander is currently an Associate Professor of Art at Minot State University, where he teaches photography and co-directs Flat Tail Press.
Pictured above: Stacks Detail, mixed media
Featured image: Stacks, mixed media