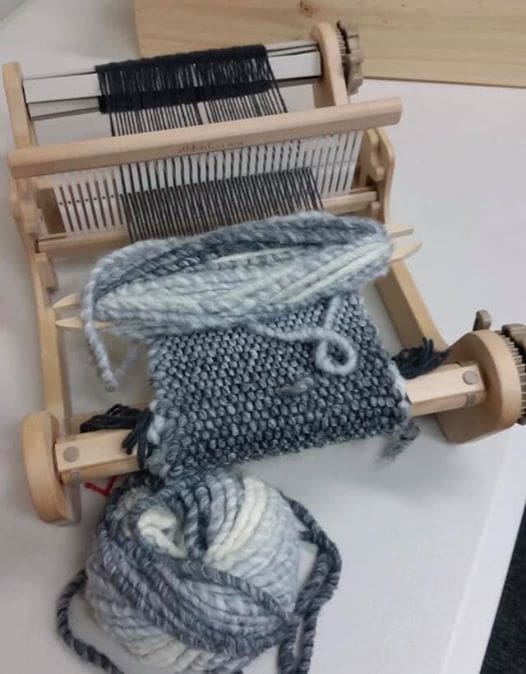 Fiber Weaving
November 9, 2019 @ 12:00 pm

-

3:00 pm
Fiber Weaving with Sue Balcom
November 9 at 12:00 pm
Always wanted to weave? Rigid heddles are a small investment and can make wonderful scarves, table runners, even clothing from any kind of fiber. This class will teach you how to wrap a small loom; some vernacular and how to go about deciding on equipment and your very own loom. Everyone will have a chance to weave and the scarf will be given away to a lucky winner at the end of the evening. PLEASE do not purchase a loom until you speak to the instructor. If you already have a loom, please bring it to class with some yarn to add to our scarf project (optional).
Sue Bartholomew Balcom has been weaving since the early 80s after falling in love with the potential of designing her own fabrics. As the artist known as Sue B. Weaves, Sue traveled across the country selling hand woven jackets, dresses and tops that were hand-dyed and stitched in here studio in Mandan, ND. Self taught, Sue wove yards and yards of cotton, linen, and rayon threads on a 16-harness AVL loom to create soft and drapable fabrics. An award-winning weaver, Sue was juried into shows like the Oklahoma Festival of the Arts, Artist Mountain Rendevous in Jackson Hole, Wy., The Uptown and Fiber and Metal shows in the Minneapolis area and was selected to a mentor program with the American Crafts Council.
Sue currently farms and sells handwoven dishtowels and scarves at the local farmers market. She lives north of Mandan with her husband, J.C., and a cat name Walter.