LISA YORK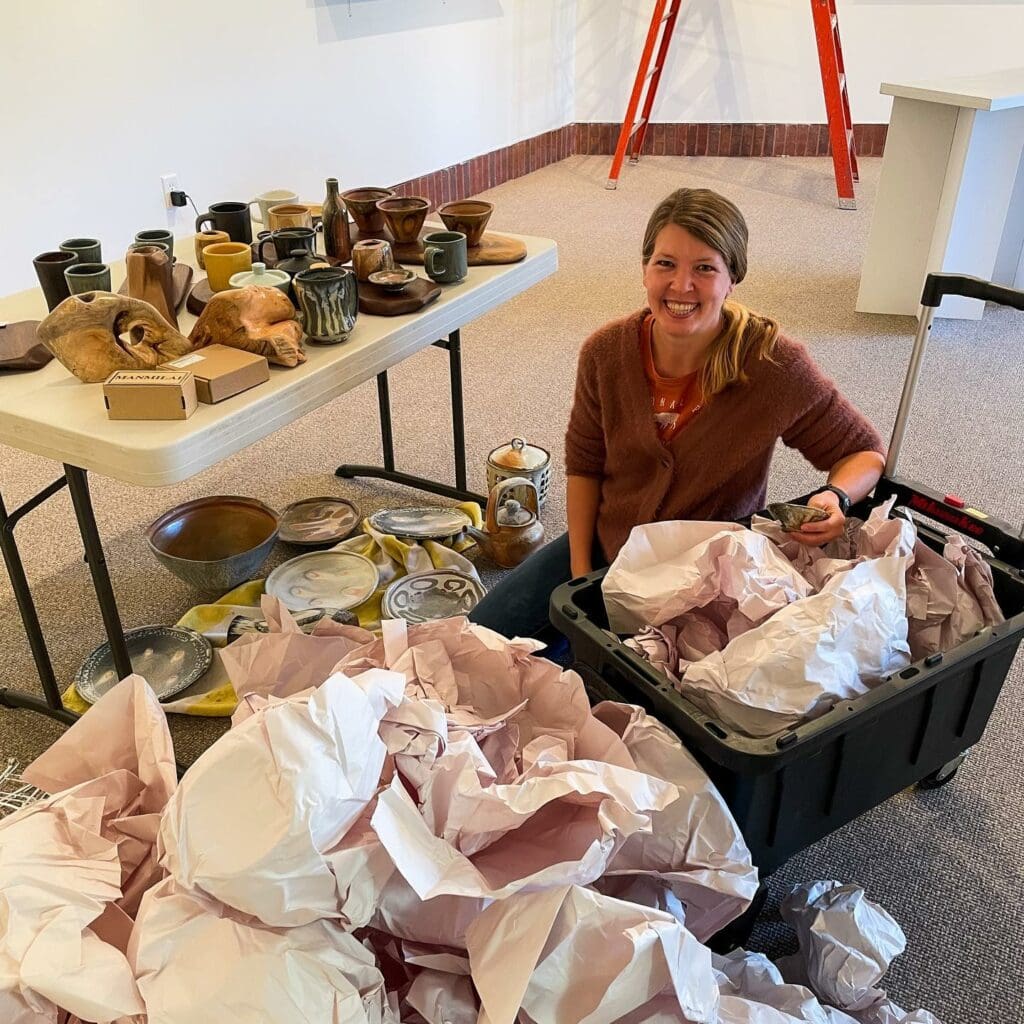 What is your Artist Name:
Lisa York.
Short intro about what you do and what kind of artist are you?
I make functional art. Typically pottery, charcuterie boards, and other kinds of sets.
How and where did you learn your art form?
I am a a graduate of Houghton College (BA) and the University of North Dakota (MFA).
Why this medium?
Clay is the best medium for making pottery, and woodworking was added later on as I wanted to make more elaborate pottery sets.
Where do you create? What is your studio space?
I have an at home basement ceramic studio/woodshop.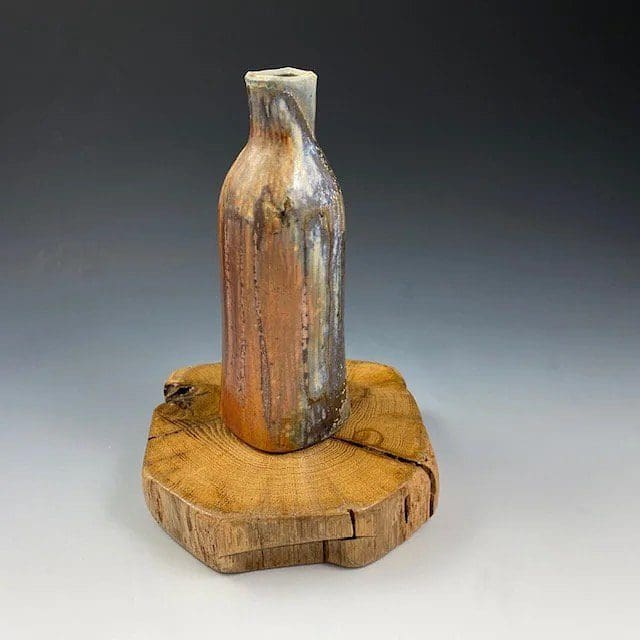 Describe a typical day in your studio.
A typical day in my studio looks quite different these days as I am a full-time caretaker of my toddler. I sometimes get one to two hours in the studio during nap time, and occasionally a whole Saturday when my husband watches our daughter. I have found wood working to be easier to pick up and work on during these unpredictable time slots. Most of my new work for the solo exhibition I installed was a series of charcuterie boards. When I do work in clay I make about 5 to 8 pots rather than 20 pots at a time. This way the loss rate is less if I accidentally let pots dry out, and just easier to manage. In the past, I have been a professor, gallery director, and other jobs as I made art on the side.
How long have you been working in this medium?
I've been at this since 2006.
What Inspires You?
-Function. Using a pot usually spurs on an idea for a different shapes to tweak.
-Travel. Whether it be textiles or finding inspiration from aged objects.
-Nature. Usually the color palette and round organic forms.
-And so much more…
What is your favorite art product or material?
My favorite materials to work with are white stoneware clay and black walnut wood.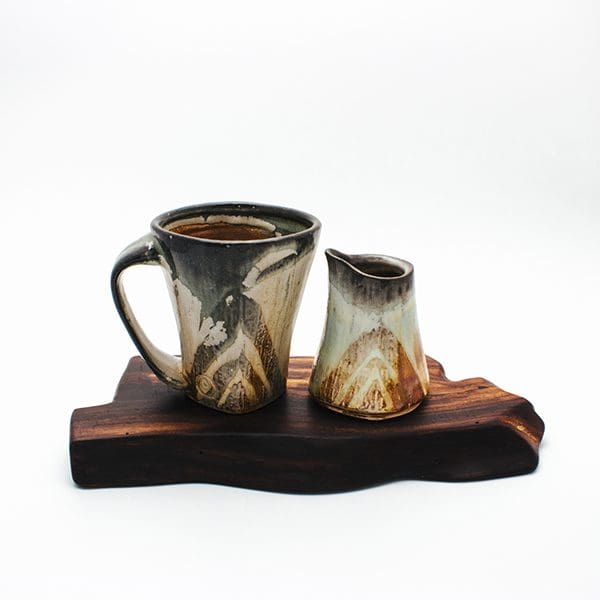 What have you made that you are most proud of?
I am most proud of my ceramic and wood sets.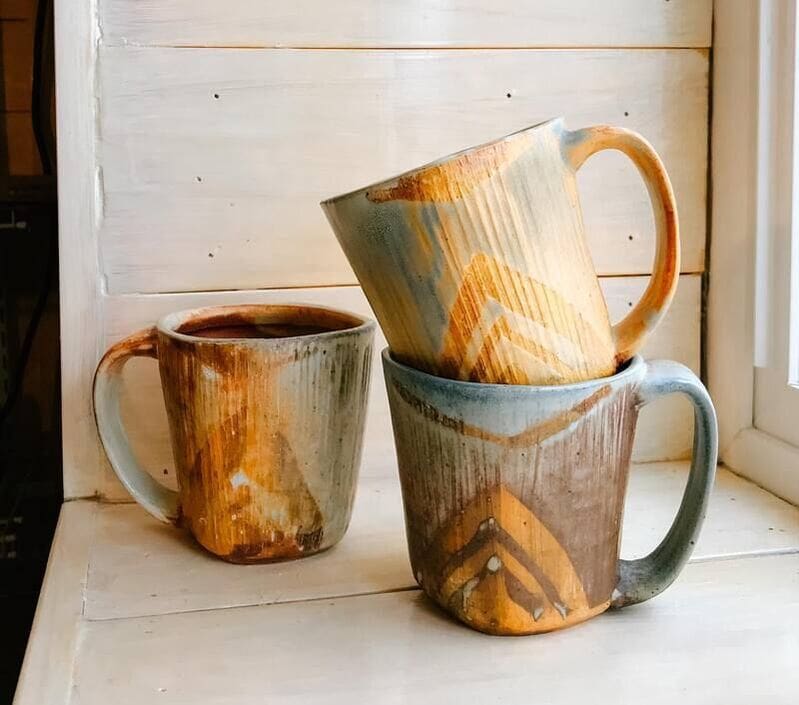 Where can we see your work? Where do you sell?
You can see some of my works at www.lisayorkarts.com . I use Etsy and update it with new work about every quarter of the year, and I share shop updates with my email list. Galleries. I have a list of some of the galleries that carry my work on my shop page. In person. Which I have not done as many in person events since having my daughter.
What will we be seeing from you next?
A lot! I am currently transitioning the aesthetic of my pottery to something new as I change kiln firing types. So I'm not even sure yet what the new work will look like.
Do you have any advice for other artists and creatives?
If I could give some advice to other artists: Try not to go into major debt for school. While obviously some artists make lots of money, most of us are super thrifty, work multiple jobs, or have a partner who contributes. Diversify your income. Online sales, gallery sales, in person events/sales, teaching workshops, regular teaching jobs at art centers or schools. And remember, it's 100% okay to make money from non-art jobs as well. Embrace seasons of life. Sometimes you will have more time in the studio, sometimes you will feel more inspired to create, and other times you won't. You are still an artist. Put forth your best effort to feed your soul with a regular connection to making as it is part of being you. And if making art is not part of your core identity… that's okay too, and enjoy the season with art while it lasts.
What is your website or other online platforms people can use to see more work or contact you?
Email: Lisayorkarts@gmail.com
Website: www.lisayorkarts.com/
Instagram: www.instagram.com/LisaYorkArts/
Facebook: www.facebook.com/lisayorkarts