Learn about our artist in residence
Please welcome our new artist in residence Nicole Gagner. Nicole is a painter living and working in Bismarck, North Dakota. Although the majority of her studio work is oil on canvas, still life, and regional landscape she draws inspiration from a wide variety of sources, often of a personal and almost autobiographical nature. The recurring themes of Nicole's work would be energetic mark making and a vibrant palette. Nicole recently made a significant mural contribution to Bismarck's Art Alley. Her work can be viewed on her website www.PainterNicole.com.
TEACHING PHILOSOPHY: Pablo Picasso said "Every child is an artist. The problem is how to remain an artist once he grows up."  Nicole believes that art can and should be accessible to everyone, especially children. There should not be a stigma or wall built around art—there is something for everyone to enjoy and learn from in the art world, as long as you keep your eyes and mind open. A love for art is also a gateway to a love for life-long learning—there is always more that the art world can teach us if we stay engaged.
We are excited to welcome Nicole to town. She will be working with the students at Lincoln Elementary starting mid-November. She is also looking forward to offering art classes for adults. Get to know her better at the next Artful Happy Hour!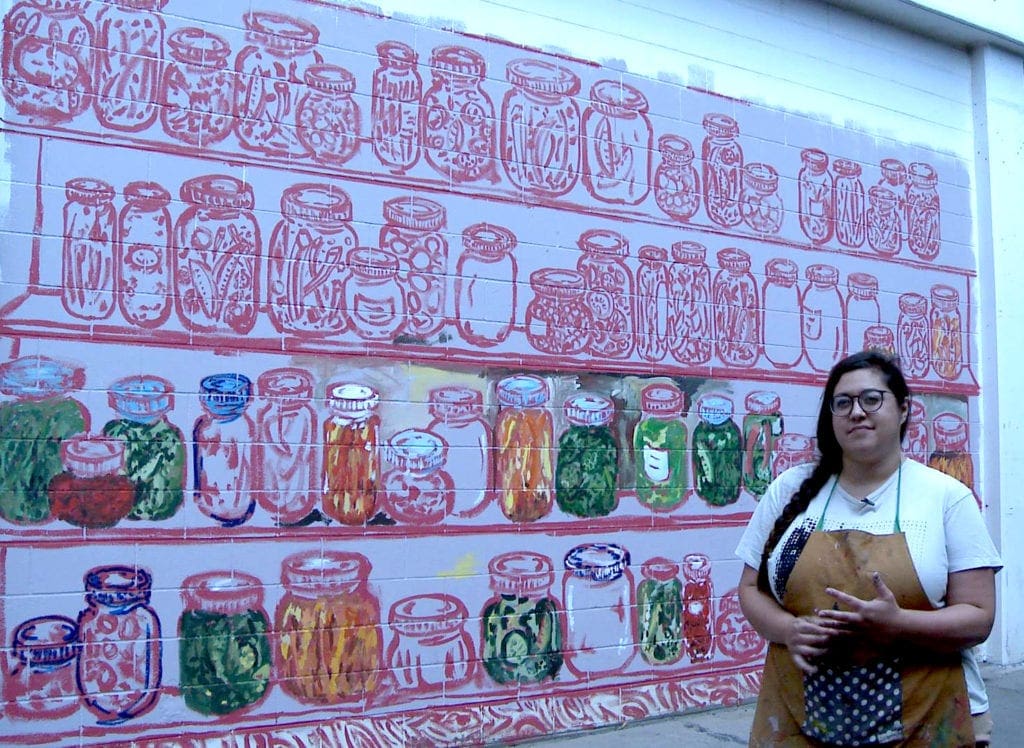 Become our next artist in residence
The Artist In Residence Program (AIR) serves K – 5 students in all six Jamestown elementary schools following the school calendar. Residency options include a fall semester and a winter/spring semester, or both. Artists follow a visual arts curriculum structured on basic design elements working with teachers and administrators. Each rotation requires a completed "Unit Plan" which includes lesson plans or goals, supplies needed, and a section for teacher feedback.
 
The resident artist may use the rest of the day and the weekends for personal studio time, including access to the pottery studio and print shop, and teaching classes at the Arts Center.
Exhibition Opportunity
Artists who are contracted far enough in advance (at least 6 months) may have the opportunity to exhibit in the Arts Center Gallery while they are in residence.
 
Stipend Includes
Living quarters-furnished: two bedroom apartment above The Arts Center, studio space and classroom supplies, and hourly compensation for teaching. Artist is responsible for own meals, etc.

The Arts Center Facility: The Arts Center is operated by the Jamestown Fine Arts Association that has been in existence for over 50 years. The Center's current facility was renovated in 2012 and features a 2000 sq. ft. exhibition space, a performance/stage area of approximately 400 sq. ft., and a classroom used for all media and exclusively for children's classes. In 2009 the Arts Center added an annex called the Hansen Arts Studio, which includes one classroom dedicated to ceramics and kiln operation, an adult art classroom, and the Arts Center is in the process of developing a print shop.
How To Apply
Submit resume. Visual artists should submit up to 20 JPEG images of personal and student work. Submit contact information for references, one personal and two professional. Email to artsed@jamestownarts.com
Selection Process
Selection is based on artistic merit and quality of teaching curriculum selection process is on‐going.