Learn about our artist in residence
Please welcome our new artist in residence Laura Ruprecht. You can get a little quality time with her at our next Artful Happy Hour!
Background:  Laura Ruprecht is a 2009 graduate from the College of Saint Benedict in St. Joseph, Minnesota earning a BFA in art. Laura is a mosaic artist primarily working with stained glass.  She uses animals as an autobiographical illustration of her experiences in life.  Her work can be viewed on her website, www.leruprecht.com
 She has been employed for the past six years at The Paramount Center for the Arts in St. Cloud, MN as their Studio and Exhibitions Manager.  She has worked with both national and international artists to curate their exhibitions in the three gallery spaces the Paramount provides.  With her employment through the Paramount, she worked with a team of artist on creating four different public pieces of art in the downtown area of St. Cloud.
Laura has been a teaching artist for the past four years teaching a variety of different mediums to people of all ages and abilities.  She has experience in teaching art at elementary schools, high schools, the St. Cloud women's shelter, and nursing homes.  She has also taught art to adults with disabilities, at risk youth, and students who need art credits to earn their GED.
Teaching Philosophy: With being a teaching artist, I have learned that art can be an intimidating experience for some people.  My approach to teaching is to create a comfortable by letting each student know that there is no right or wrong answer when it comes to creating their art.  Whatever a student creates should be a reflection of themselves and what they would like to express. I emphasize that their work should above all else be personal, and that the process of actually creating the work can teach them something that they didn't know when they started.
 I believe that the arts are important in revealing the diversity within a community.  I feel strongly that the arts should be accessible to everyone no matter the age or ability of the person.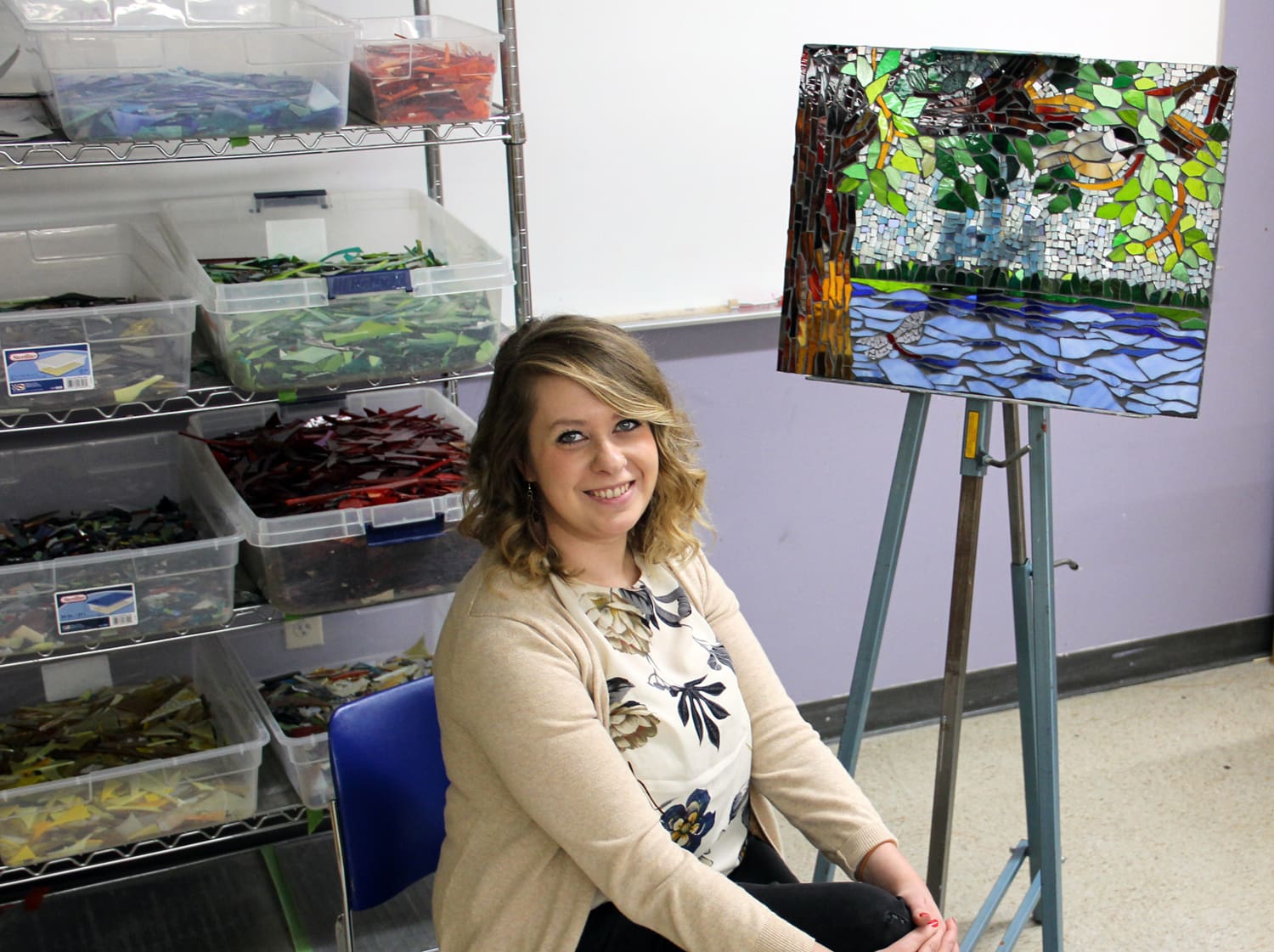 Become our next artist in residence
The Artist In Residence Program (AIR) serves K – 5 students in all six Jamestown elementary schools following the school calendar. Residency options include a fall semester and a winter/spring semester, or both. Artists follow a visual arts curriculum structured on basic design elements working with teachers and administrators. Each rotation requires a completed "Unit Plan" which includes lesson plans or goals, supplies needed, and a section for teacher feedback.
 
The resident artist may use the rest of the day and the weekends for personal studio time, including access to the pottery studio and print shop, and teaching classes at the Arts Center.
Exhibition Opportunity
Artists who are contracted far enough in advance (at least 6 months) may have the opportunity to exhibit in the Arts Center Gallery while they are in residence.
 
Stipend Includes
Living quarters-furnished: two bedroom apartment above The Arts Center, studio space and classroom supplies, and hourly compensation for teaching. Artist is responsible for own meals, etc.

The Arts Center Facility: The Arts Center is operated by the Jamestown Fine Arts Association that has been in existence for over 50 years. The Center's current facility was renovated in 2012 and features a 2000 sq. ft. exhibition space, a performance/stage area of approximately 400 sq. ft., and a classroom used for all media and exclusively for children's classes. In 2009 the Arts Center added an annex called the Hansen Arts Studio, which includes one classroom dedicated to ceramics and kiln operation, an adult art classroom, and the Arts Center is in the process of developing a print shop.
How To Apply
Submit resume. Visual artists should submit up to 20 JPEG images of personal and student work. Submit contact information for references, one personal and two professional. Email to Education Coordinator: Myra Olson
Selection Process
Selection is based on artistic merit and quality of teaching curriculum selection process is on‐going.